23 Jul 2018
MATCH REPORT – SKYCITY MYSTICS vs NORTHERN STARS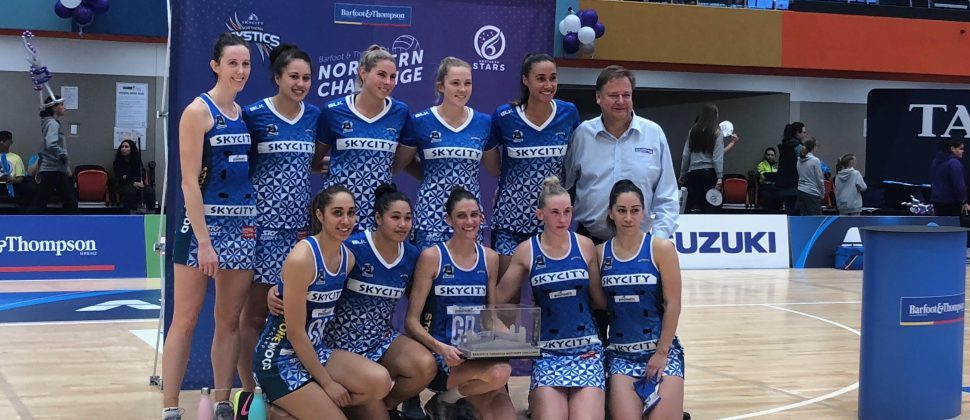 The SKYCITY Mystics headed to Bruce Pulman Arena in Takanini for Super Sunday, and the final game of the Barfoot & Thompson Northern Challenge with both northern teams going into the match up with a win apiece. After a strong showing, SKYCITY Mystics took away convincing 70-52 win over the Northern Stars, and were presented the Northern Challenge trophy after the match.
Tera-Maria Amani got the nod to start the game at GS, with Mes at GA, Toeava at WA, Nathan at C, Sokolich-Beatson at WD, Karaka at GD and Purvis at GK. It was a very even first quarter with the Stars ahead by one at the break with sixteen goals to the SKYCITY Mystics 15 – Amani scoring 10/10 and Mes scoring 5/5.
Maria Folau came on at GA to begin the second quarter, with Mes moving to GS. This change coincided with the SKYCITY Mystics finding their form and starting to dominate the court and the scoreboard. Purvis went to the bench with five minutes remaining and Anna Harrison came on at GD, with Karaka moving to GK. At the half time whistle, SKYCITY Mystics led 34-27.
The Northern Stars fought back at the start of the third quarter, scoring five in a row to come within two goals of the leaders, but the SKYCITY Mystics showed their class and built back the seven goal buffer. Grace Kukutai came on at centre just before the three quarter time whistle, with the score at the break 49-42.
It was Mystics all the way in the final quarter with a fit and efficient SKYCITY Mystics scoring 21 goals to the Northern Stars 10 to take the game and the Barfoot & Thompson Northern Challenge trophy.
There are just two games remaining for the SKYCITY Mystics in the ANZ Premiership regular season and both are crucial. The final home game is against Waikato/BOP Magic this Wednesday at The Trusts Arena – limited tickets remain for this game, get in quick!
The game is also Captain Anna Harrison's final home game – if you can't be at the game to say thank you to Anna, read about how you can send a farewell message.