15 Nov 2016
SKYCITY MYSTICS COMPETITION SCHEDULE 2017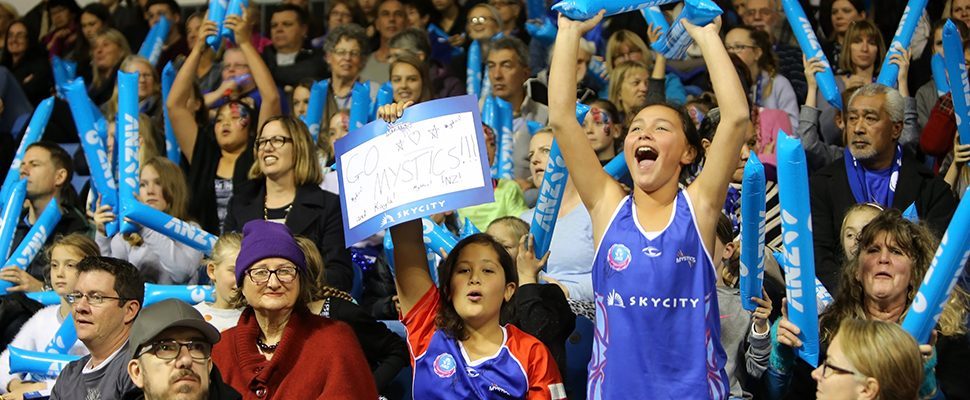 The SKYCITY Mystics will kick start their ANZ Premiership campaign against the Central Pulse on Sunday 26 March at 6pm in Hamilton, as part of the first Super Sunday which will be hosted by Waikato Bay of Plenty.
There will be three blockbuster Super Sunday's throughout the inaugural ANZ Premiership season, starting in Hamilton then moving down south to Invercargill, before finishing up in Auckland. All six teams feature on Super Sunday and it's a great opportunity for netball fans to watch all players involved in New Zealand's new elite Netball league.
The SKYCITY Mystics will have seven regular-season home games in 2017, six (6) at The Trusts Arena and one (1) at North Shore Events Centre. Our first home game takes place on Monday 3 April at 7.40pm against the Southern Steel.
The SKYCITY Mystics have a quick turnaround in June, with three games in six days. We take on the Southern Steel in Dunedin on Wednesday 7 June, before heading back to Auckland to take on the Northern Stars at our Super Sunday on 11 June and then the following night on Monday 12 June we take on the Waikato Bay of Plenty Magic at The Trusts Arena.
All 47 ANZ Premiership matches will be broadcast LIVE on Sky Sport on Sunday's, Monday's and Wednesday's.
2017 SKYCITY Mystics Fixtures – Venues still TBC
vs Pulse – Sunday 26 March 6pm, Hamilton (Super Sunday)
vs Steel – Monday 3 April 7:40pm, Auckland
vs Stars – Wednesday 12 April 7:40pm, Auckland
vs Magic – Sunday 16 April 2pm, Auckland
vs Pulse – Monday 24 April 7:40pm, Wellington
vs Steel – Sunday 30 April 4pm, Invercargill (Super Sunday)
vs Tactix – Wednesday 3 May 7:40pm, Auckland
vs Magic – Wednesday 10 May 7:40pm, Hamilton
vs Stars – Wednesday 17 May 7:40pm, Auckland
vs Tactix – Sunday 21 May 2pm, Nelson
vs Pulse – Wednesday 31 May 7:40pm, Auckland
vs Steel – Wednesday 7 June 7:40pm, Dunedin
vs Stars – Sunday 11 June 4pm, Auckland (Super Sunday)
vs Magic – Monday 12 June 7:40pm, Auckland
vs Tactix – Sunday 18 June 2pm, Auckland
Elimination Final – Sunday 25 June 2pm – 2nd vs 3rd
Grand Final – Wednesday 28 June 7:40pm – 1st vs Winner EF
SKYCITY Northern Mystics digital channels:
Website: www.northernmystics.co.nz
Facebook: www.facebook.com/northernmystics
Twitter: www.twitter.com/northernmystics
Instagram: @northernmystics
Hashtag: #MysticsNation #SKYCITYMystics
ANZ Premiership digital channels summary:
Website: www.ANZPremiership.co.nz
Facebook: www.facebook.com/ANZPremiership
Twitter: www.twitter.com/anzpremiership
Instagram: @anzpremiership
YouTube: ANZPremiershipTV
Hashtag: #ANZP