27 Jul 2020
Newsroom.co.nz – Sulu Fitzpatrick: forever the student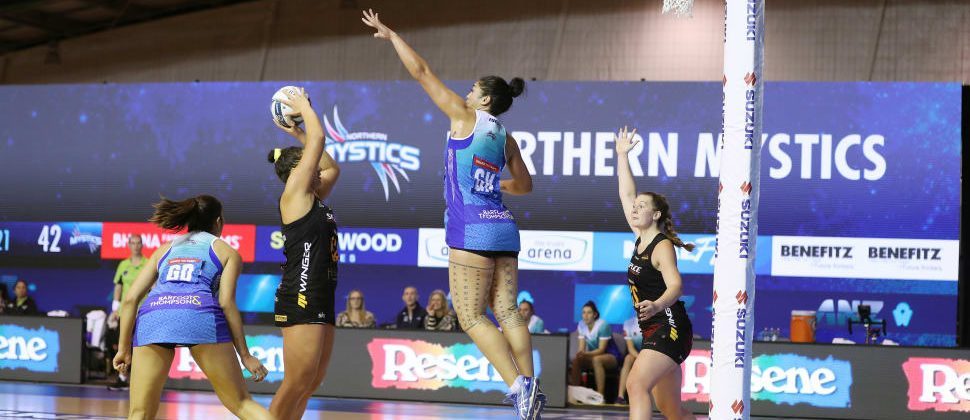 Sulu Fitzpatrick's netball career has come full-circle in a decade – back at home with the Mystics and on the verge of a return to the Silver Ferns. But she's determined to carry on learning.
Sulu Fitzpatrick has been half-expecting to be kicked out of university.
It's been 10 years since she started studying at the University of Auckland straight out of high school. That was 2011 – the same year she made her debut for the Silver Ferns.
Fitzpatrick is determined to finish her sociology degree next semester. "I promised myself I would do it before I was 30," she laughs. She's only 27.
"I can't believe they still let me enrol each year."
You've got to think the university has been sympathetic to the fact her circumstances haven't exactly been typical.
Over the past decade, Fitzpatrick has been one of the outstanding netball defenders in the country. At times though, she's struggled to find her place, playing for every national league team bar the Mainland Tactix.
She took time off her studies after she had her twins, Theresa and Tavita – now lively six-year-olds, who love watching their mum play netball. Theresa – named after her aunty, Black Fern Theresa Fitzpatrick – rushes onto the court to be with her mum after she warms down (even though the little girl is more interested in singing and dancing than playing sport right now).
For the past two years, Fitzpatrick has been separated from her family during the netball season, living in a flat in Wellington while playing for ANZ Premiership champions, the Central Pulse.
She kept up her studies by correspondence, "very poorly at times", she laughs.
But now that she's finally home, settled and happy – reunited with her family and back where it all started at the Northern Mystics – she's ready to finish that degree.
But she doesn't see it as a chore that must be completed. She's loving what she's learning and is even using it to better her netball.
"I'm really passionate about it – it's fascinating. Understanding people, why they do what they do, not judging people by their actions and having compassion. It translates really well into netball and life," she says.
"Sure, it's been hard. But my mum has always pushed the importance of having something else in your life. The times when I didn't do anything, I became too netball-focused."
Eventually, Fitzpatrick would love to do social work – "but it might mean another degree," she laughs.  "I love the idea of working with youth or with people who need support." Does that also naturally steer her towards coaching her sport?
"It's definitely something I could see myself doing in the future. But I can see coaching is an art form. The amount of work it takes – managing people, growing people and supporting them in their own journey. I just don't know if I could handle the stress though."
Fitzpatrick certainly doesn't look like she's rattled by pressure. At 1.87m, she's imposing on court, and there's a calm, composed and gentle presence about her wherever she goes.
And right now, the end of her playing career is still nowhere in sight.
She's still finding her feet. Or at least how to best use her feet to make space to create intercepts – a skill she's been honing with the help of Mystics' coach Helene Wilson this season. Fitzpatrick knows better than anyone it's never too late to learn.
Her passion to play for the Silver Ferns, for a third phase, still burns. And the way Fitzpatrick has been playing at goal keep for the Mystics, another call-up to wear the black dress could be on the cards.
"I'm a late bloomer," she laughs. It's easy to forget that she's just 27, when she's been playing elite netball for 10 seasons – ever since she was the deputy head girl at St Cuthbert's College. She's just notched up 100 games at national league level.
"Oh, I'm old," she says. "Grace [Nweke], Tayla [Earle] and the whole shooting end of the team remind me every day. They're like 'Do you know this song?'"
Once a week, the younger members of the Mystics side – some of them still teenagers – organise fancy-dress team dinners. They rope everyone into playing non-netball games in the changing rooms before matches. "They're keeping it fresh – I love it," Fitzpatrick says. "Right now, connection is really important for the younger ones, and us older ones are buying into it."
And she's learning from them too. "They're reminding us what it is to just play," she says.
"That's really important for us to hold on to towards the end of this season, just to play and play our best. As soon as we start getting technical, or worrying where we are on the ladder, we're in trouble."
Fitzpatrick says she doesn't look at the points table. But she's still aware that at the halfway point of the competition, the Mystics are sitting in third place, dropping a rung on the ladder after a 47-41 lacklustre loss to the Steel last night. They have a chance to reclaim second spot if they beat the sixth-placed Magic tonight.
"I don't worry about that stuff because it's out of our control. But what I do really care about is us getting better. We have heaps to improve on netball-wise, and I think that's a great place to be," Fitzpatrick says.
"I'm really enjoying this year. I feel like there's something here that's really special, and it's something we need to look after."
She's especially enjoying playing with deceptive midcourter Elisapeta Toeava for the first time. "Peta is one of the smartest players I have ever known. I hear her yelling at us defenders from the transverse line because she can see things that are going to happen two or three phases ahead. You just can't teach that," Fitzpatrick says.
She also has a "soft spot" for 18-year-old rookie goal attack, Saviour Tui. "Not just her play, I love her heart and her integrity. She doesn't get caught up in the emotions of the game; she plays very positively. I think she has a huge future."
Fitzpatrick admits her own strength hasn't simply happened overnight. It's been a three-year journey, she says. Her two-year stint at the Pulse was a game-changer; she lost weight, gained fitness and learned so much more about the game.
This is her third time at the Mystics, starting there as a schoolgirl, then returning in 2016 for an unhappy season, after which she considered retiring from the game.
This time, she's quickly formed a formidable defensive combination with her old team-mate and Silver Fern Phoenix Karaka.
"I love Fi. The last time I played with her was at the Steel [in 2013]. She was one of the first people I told when I got pregnant," Fitzpatrick says. "We really complement each other – she's very aerial, very instinctive. And I like to play the ground game."
Helene Wilson is thrilled the two defenders have reconnected, saying it's been key in the Mystics' successes this season.
"In every game we've had lulls – because of our youth not quite understanding what's going on," Wilson says. "But our defence has been pivotal in picking up the tempo, getting turnover ball and resetting us, and Sulu has been one of the leaders in that.
"She brings leadership to the team too. She's a real people person and very articulate – framing performance conversations in a way that everyone feels valued and responsible for doing what needs to be done.
"She's also been in a championship-winning side … and that experience of knowing how to win has been massive to our young team as well."
Fitzpatrick also has the mark of what Wilson calls a truly great player. She's seen it in other Silver Ferns, Maria Folau and Anna Harrison, who were always looking to up their game and do things in a "slightly new way".
"Sulu knows a lot about the game, but she's also inquisitive, wanting to try something different – which is really awesome to coach because I'm wired that way too," Wilson says.
"She really nailed it at the Pulse as a physical, imposing defender. But one thing she wanted to add to her game back here was how to use good footwork and movement to manipulate space and create intercepts, rather than contesting on the body. That's something we've worked really hard at and she's coming good at it too."
That could count in Fitzpatrick's favour when Dame Noeline Taurua names her Silver Ferns squad of 16-18 players this time next month. She's already caught Taurua's eye – the coach telling the Extra Time podcast that Fitzpatrick has been doing a "tremendous job and holding up the back".
Fitzpatrick last played in the black dress in 2018, adding two more tests to make her tally three, and was a non-travelling reserve for the World Cup-winning Ferns.
"Getting to know Noeline better having her on the coaching bench with us, I've learned she wants positive skills," says Wilson. "Creating intercepts, getting turnover ball, and using really positive skillful play as a defender. I think that's rubbing off across the country – it's been a very defensive ANZ Premiership."
How does Fitzpatrick feel about making the Ferns again? "The fire is definitely not out," she says. "But I've got to take things as they come. I just want to give my best, wherever that is."
Unlike some netballers, Fitzpatrick loved being in lockdown. She found it "a huge blessing" to be in a bubble of six with the twins, her partner, Andrew, and his two young children.
"All those weeks, just me, my partner and our four kids was a huge blessing for our family. It was the most time we've all spent together," she says. "There were testing times, but that's what the backyard is for.
"It also gave you time to reflect on what's important, and what you can do without. And confront the not-so-good things about yourself. Being present was definitely the best thing I learned from it.
"Netball-wise, it was just being able to train. There was nowhere to hide, no one else to push you, or for you to rely on. Just you and your own mind. I found that really helpful, and it brought my fitness up quite a bit. I was able to build mental toughness as well."
Her parents, Rosie and Greg, are just a two-minute drive down the road, and continue to be a huge support to Fitzpatrick, especially helping with the twins. She's enjoying spending time with her nana, "the Queen of Everyone", who turns 80 this year.
She admits it has taken a village to raise her children. And so she's doing her bit to help raise a new generation of outstanding young netballers.
<h3>Suzanne McFadden</h3>
<p class="bio">Suzanne McFadden is the editor of LockerRoom, dedicated to women's sport.</p>
<em><strong> </strong></em>