17 Apr 2017
MATCH REPORT – SKYCITY MYSTICS VS WBOP MAGIC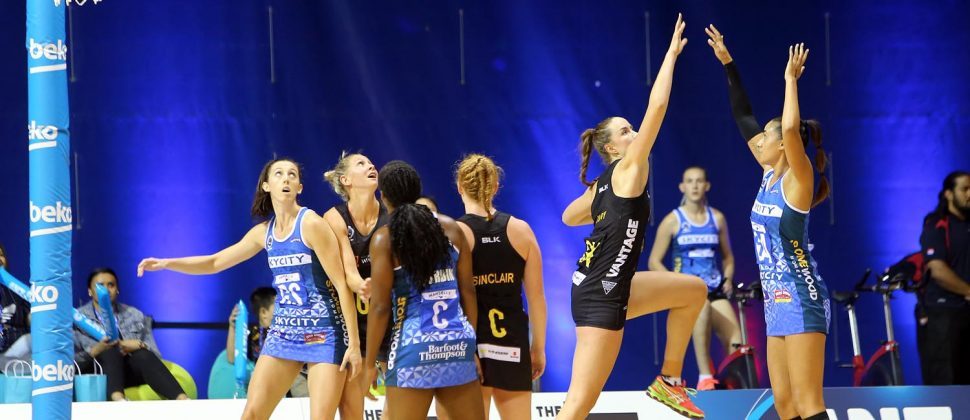 The Trusts Arena crowd were treated to an Easter special in Sunday's ANZ Premiership clash between the SKYCITY Mystics and Waikato Bay of Plenty Magic, with the home team coming away with a 67-62 victory.
The SKYCITY Mystics were the dominant team throughout the encounter, but the Magic refused to go away, making the final quarter a nail biter.
It was goal for goal early in the first quarter, with the SKYCITY Mystics managing to pull away by three goals midway through the first stanza, before the visitors evened it up again. Storm Purvis caused plenty of havoc early on in the Magic shooting circle and the score was all tied up 15-15 at the break.
The SKYCITY Mystics came out firing in the second quarter, with midcourters Samon Nathan and Elisapeta Toeava showing plenty of patience and control as they fed shooters Bailey Mes and Maria Tutaia.  Tutaia continued to sink her trademark long-range bombs and her connection with Toeava was brilliant. The home side went on a remarkable run midway through the second half, scoring seven unanswered goals to give themselves a 10-point buffer. The SKYCITY Mystics led 36-27 at half time.
It was the Magic who started with a hiss and a roar in the third quarter, closing the gap to just four goals early on. However, the SKYCITY Mystics refused to allow the gap to close anymore, and they extended their lead out to 10 again. Wing attack Toeava and wing defence Sam Sinclair had a great battle in the midcourt, while Michaela Sokolich-Beatson and Anna Harrison combined well in the defence end to restrict the Magic shooters. The third quarter contained a number of turnovers by both teams, but the SKYCITY Mystics still held on to their lead 52-46 as they began the final quarter.
The final quarter was a tense one, with the visitors climbing their way back to trail by just two goals. SKYCITY Mystics coach Helene Wilson made a number of strategic changes to her midcourt in the final spell, with Sasha Corbin, Samon Nathan and Toeava switching around to ensure fresh legs. It paid off as Wilson's side held on to defeat the Magic by five goals and record their second win of the ANZ Premiership season.
Mes was outstanding for the SKYCITY Mystics. She shot at 91%, shooting 30 from 33, but it was her rebounding that was impressive. Mes pulled in five rebounds at crucial times of the match. She was named MVP.
Full time score: 67-62 SKYCITY Mystics
Visit HERE for all ANZ Premiership stats from the match.
The SKYCITY Mystics next game is against the Central Pulse on Monday 24 April at 7.40pm in Wellington.