24 Apr 2018
2018 ANZ Pre-season tournament, Otaki – wrap up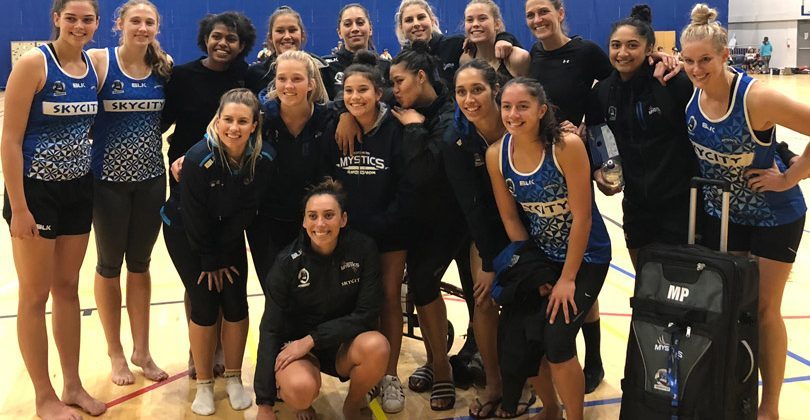 The SKYCITY Mystics participated in a pre-season tournament hosted by Te Wananga O Raukawa Pulse at Nga Purapura, Otaki, over the weekend which featured all six ANZ Premiership teams.
With the Silver Ferns players on compulsory rest, the weekend provided an opportunity for growing performance athletes within the Northern Zone. Five young players joined the SKYCITY Mystics team in Otaki. Coach Helene Wilson says the weekend gave the additional players a valuable growth experience inside the elite netball environment.
Results were:
Friday – Southern Steel 53 v SKYCITY Mystics 44
Saturday – SKYCITY Mystics 46 v Silvermoon Tactix 54
Sunday – Central Pulse 59 v SKYCITY Mystics 46
"The results have provided us with valuable information on the performance readiness of players to take the court in ANZ and who we have available in terms of depth of talent in the SKYCITY Mystics programme. Pre-season players an opportunity to implement their learning against experienced players, so it was good to see all players get court time," said Helene.
It was also an opportunity for contracted players to build connections within units and test strategies we have been working on in a competitive environment. Without giving too much away, it has also allowed us to see how the other teams are tracking and what will be an important focus for us to ensure a successful start in the ANZ premiership."
The first SKYCITY Mystics game of the season is against Southern Steel in Palmerston North on Sunday 6 March, followed by a home game against Canterbury Tactix on Wednesday 9 March at Trusts Arena. See the full draw.
View images from the weekend on our Facebook page.