6 May 2022
The ton Toeava thought she'd never reach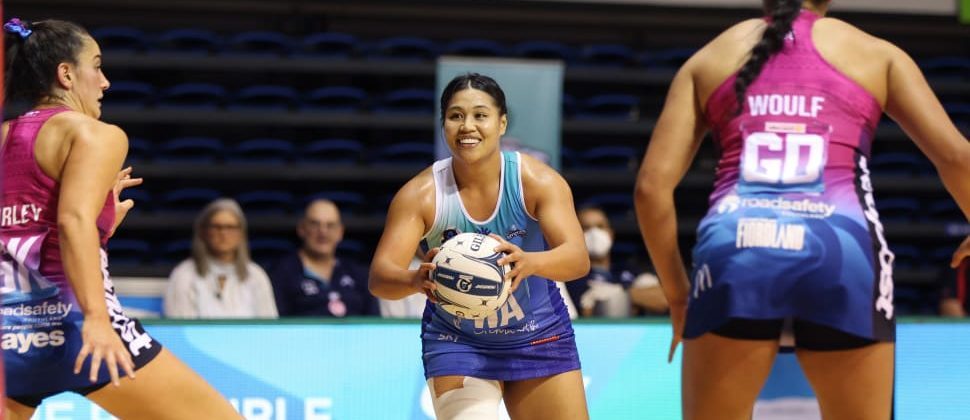 One of the most ingenious players in netball, Peta Toeava was almost lost to the game early in her career. But supported by her Mystics whānau, she's about to notch up a century of appearances in the blue dress.
Peta Toeava never saw this day coming.
She's renowned for her ability to see into the future on a netball court, read the play, pass the ball into spaces only she can see.
But 100 games in national league netball? It's caught the Mystics midcourt maestro a little off-guard.
What few people know about Toeava is that she came extremely close to giving up on netball seven years ago.
"Halfway through my netball career, I lost my passion for netball. And I really didn't think I'd ever come back," says the 26-year-old.
Toeava was still at McAuley High School in Otahuhu when she was first picked to play for the Northern Mystics franchise, offered a contract by Raewyn Henry. She'd been part of the New Zealand Secondary Schools team who beat Australia in 2012, coached by Helene Wilson; among her team-mates were Holly Fowler, Sam Winders and Fa'amu Ioane.
She made her debut in the 2013 ANZ Championship season – showing a glimpse of her remarkable flair and intuition when the Mystics went through a string of injuries. But then she disappeared from the netball scene for two years.
"I went through a lot of stuff off the court that was holding me back, and I didn't really want to come back to netball," she says through tears.
"But it was just talking with the right people, coming back into Beko [the second-tier league] and slowly working my way back up, that I started to find that passion again.
"I really didn't think I would be here. So I'm very, very grateful to have netball in my life again."
Toeava returned to the Mystics as a fill-in player in 2016, but was back in the side fulltime the following year. She's been a constant in the team ever since; named MVP in last year's ANZ Premiership grand final when the Mystics took out the title for the first time.
Numbers don't usually mean a lot to Toeava. She had no idea she was close to a ton of appearances in the blue dress until Wilson (now the Mystics' head coach) told her at training this week – a milestone she should reach on Sunday against neighbouring rivals, the Stars, at Papakura's Pulman Arena.
In fact, she appears more excited that her team-mates Grace Nweke and Tayla Earle will both play their 50th matches on Saturday against the Tactix.
But the following day, Toeava will honour the Mystics players who helped to mould the phenomenal netballer she's become.
Players like Cat Tuivaiti and Maria Folau, the foundation shooters of the Mystics in Toeava's early years. Players who she still takes inspiration from in evolving her clever court craft.
"I always go back to players like Cat and Ria who had that kind of skillset. Learning off them but putting my own twist on it," Toeava says.
And she promises she still has a few tricks up her sleeve she wants to reveal.
"There are parts of my skillset that are untapped, that I want to showcase in the next few years before I retire," she says. "It's just knowing when it's the right time to put them out on court.
"I try to practise them in training, but I always get the eyeball from Rob [assistant coach Rob Wright] who asks 'Are you really going to do that in a game?' And I'm like 'Yeah, when we're up by 20 goals'."
Australian Wright, in his second season with the Mystics, has been working with the attacking end of the court and helping Toeava to round out her game.
"He's worked with me on nailing the basics on court which is what I needed. I use my basics, like hitting the circle edge, but also adding in a bit of flair here and there," she says. "I'm pretty lucky to have him."
Wright is constantly blown away by Toeava's creativity and her ability to read the game, space and defenders. But he's trying to drum into her how she needs to do "all the little things to be able to use that genius".
"When she gets carried away – like all good players can do because they're a bit different – she knows the passes I don't like, and she really self regulates now," he says.
"We're still seeing her creativity and brilliance, but with much more discipline. It's a fine balance but I never want to take that individual brilliance away."
Wright rates Toeava as one of the best ball handlers he's seen in the game, up there with former Australian Diamond Kim Green. "They're quite similar in their ability to throw and deliver some amazing ball," he says. "Coming up with stuff that makes you wonder 'how did that happen?'
"Pet is always thinking 'what could I add or do differently?' It's a very special skillset she has."
Toeava is indebted to all the coaches she's had at the Mystics – from former Silver Ferns coach Ruth Aitken, to current Silver Ferns assistant coach Debbie Fuller ("she's the funniest coach; she's really out there") and Wilson, who first spotted Toeava as a shy 17-year-old with a burgeoning talent.
"They've all had an influence on me. As the game has evolved I've learned something new off every coach I've worked with," she says.
Three Mystics captains have made a distinct impact on her, too: Folau, Temepara Bailey and the woman leading her now, Sulu Fitzpatrick.
"When I was growing up, Ria and Bubby [Bailey] were definitely role models for me," Toeava says. "Getting that time to play with Ria was my dream come true. Working with someone who's so good and really knows their stuff on court.
"Sulu is a very different leader, always thinking about others before herself and wanting the best for the team.
"It's been cool to grow up with these women – leaders who are from the same culture as me.  It's quite empowering. I just like seeing my people succeeding."
Toeava was born in Samoa, but raised in Auckland by her grandparents.
She's not sure how many of her family will be at Sunday's game – of her nine siblings, five live in Auckland, two are studying in Dunedin and another two are in the United Kingdom.
"I'm not a person who likes to make a big fuss of these things, but regardless of whether they're there or not, I'm so very grateful for them," she says.
Toeava has been planning to return to Samoa with her sister in the UK.
"I'd love to go back to where I was born and see the country. I went back when I was 16 and that was about it," she says. "Me and my sister want to go back home and experience the culture. I feel like I drifted away from my culture.
"I want to visit my mum there as well."
Over seven seasons playing national league netball Toeava has seen the game transform. "The physicality of the game has gone up another level. And the skillset has evolved over time," she says.
"I'm physically strong, but when I get into that physical battle, I tend to lose my skills. The physicality takes away from my strengths – working off the body, using my speed, pass and cut. I like working with space and using my speed."
While to most it may look like Toeava is schooling the young Nweke, with her pinpoint accurate high lobs or no-look bullet passes to the tall shooter. But she says Nweke is teaching her a lot of things about herself.
"Like how I'm playing and the placement of the ball. It's quite cool how she's telling me what she wants from me," Toeava says.
"I love her. And sometimes I scream at her. But with our relationship, we're so comfortable, whatever we say to each other is performance talk that stays on court.
"She's growing a lot and I can't wait to see how far she goes with netball."
Toeava has been nursing a thigh issue this season. Unlike her team-mates, she had Covid last November: "I was lucky – I was asymptomatic. But I could feel it in the lungs later on."
"I guess we're quite lucky because the majority of our team have had Covid now. Us Aucklanders are so used to living with it. But we're just taking our season day by day."
The Mystics are at the top of the table going into round nine this weekend, with six wins and two losses. But the table is, of course, distorted by Covid postponements.
Does Toeava think the Mystics can repeat their premiership victory this season?
"It's definitely there. But it's really if we want it," she says. "How we'll do it is through consistency in what we do on court, and how we push each other in training.
"That's where the real test is: how hard we push each other at training. I feel sometimes we just go through the motions, but we feel that, so the next training we're coming out harder."
Three times Toeava has worn the black dress on court – with a stint in the New Zealand side in 2018 and again in 2021. Is making the Silver Ferns still an ambition?
"I'm not going to lie. Yes it is," she says. She's taken time away from her work in childcare to focus on netball. "It's a goal of mine to make the Commonwealth Games but at the same time, I'm focusing on the now. To get there I have to play good netball with the Mystics, and that's what I'm trying to do."