10 Aug 2021
THE SECRET WEAPON GUIDING THE MYSTICS FROM ABOVE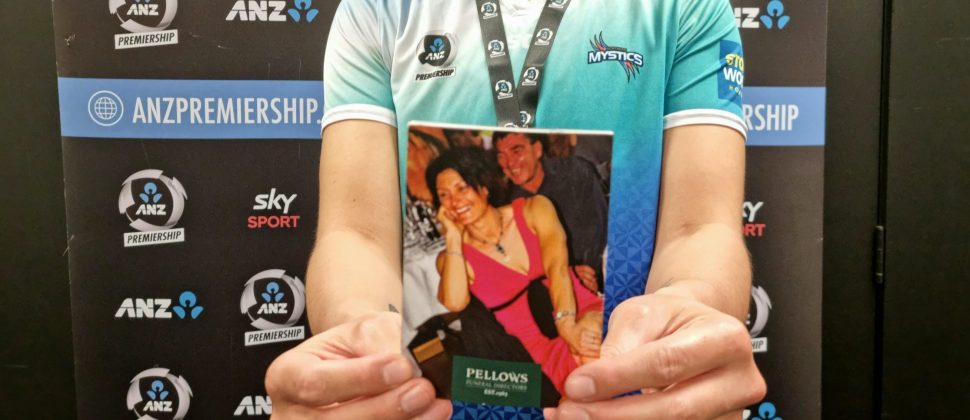 Mystics Head Coach Helene Wilson and skipper Sulu Fitzpatrick knew they had a secret weapon in their back pocket this season – sadly one who couldn't make it in person to Sunday's history-making ANZ Premiership victory.
One of netball's best coaching brains helped guide the Mystics to their first ever title.
But you wouldn't have spotted her on the coaching bench at Sunday's ANZ Premiership Grand Final victory or at any of the team's trainings this season at Trusts Arena.
Former Mystics Assistant Coach Margaret Forsyth, who sadly passed away a few weeks into this year's competition, was always with the Mystics – with the card from her funeral service always in the handbag of Head Coach Helene Wilson or the kit bag of skipper Sulu Fitzpatrick.
Wilson choked up after the Grand Final when talking about how much of an influence Forsyth had on this group.
"Even though she was only with our franchise for a short time, she had a huge influence on our young shooters … and on me as a coach. Marg was a coach who encouraged you to go with your gut. She told me to just keep trusting myself, and said I'll be on your shoulder with you."
Even when Forsyth was in hospital, Wilson said she would send messages to the girls with little bits of advice. Wilson clearly recalls one of the last things Forsyth said to her.
"Marg told me 'I love this team. They brought me a lot of joy at a time that was really hard in my life. I feel my netball family has helped me to be well for longer.' "
Fitzpatrick also dedicated the history-making win to the former Silver Fern.
"She's with us in heaven, in spirit, and we know she's been with us all season. She means a lot to us, and we hope we made her proud," said Fitzpatrick.
"The values she lived by, the kind of person she was… that's the type of person we want to aspire to as women. Not just in netball, but off the court as well."
While Sunday's victory was a huge relief to get the monkey of not ever winning a title off the Mystics' back, it was also a victory for those who had come so close in the blue dress.
Fitzpatrick said "that was for our legacy players who have laid the foundations", while Wilson added it was for so many talented players who have worn the Mystics dress.
"It was special to give back to all those great players – to Temepara Bailey, Cathrine Tuivaiti, Maria Folau, Anna Harrison and I could name so many more, and the coaches especially Deb Fuller for her many years of service and how much she loves the Mystics – it's just been really cool to do it for them," said Wilson.
"The Mystics have always been a team that gets the cream of the crop when it comes to talent but we've never quite put it together. Teams that play the Mystics never know what they're going to get. To be able to win consistently we had to put our best foot forward week-in, week-out."
And the Mystics of 2021 sure did that. Marg would have been proud.