17 Jun 2021
THE POCKET ROCKET'S SPECIAL BOND WITH LOFTY SHOOTER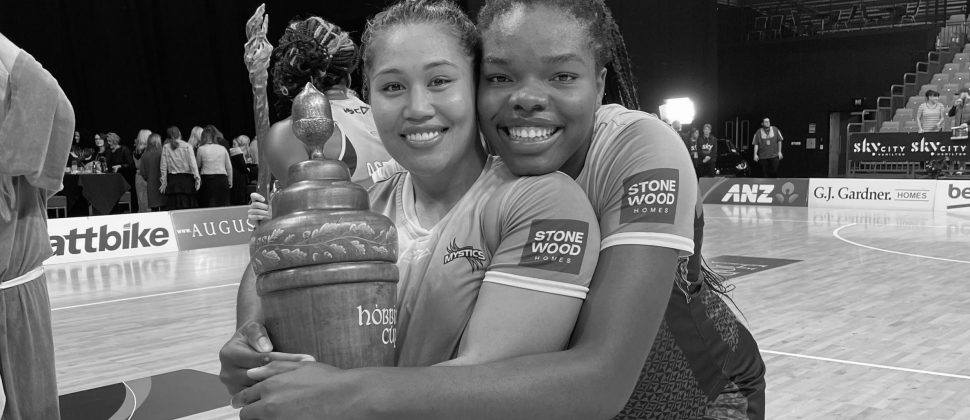 Peta Toeava is the talk of the ANZ Premiership with her explosive speed and no-look passes into shooting star Grace Nweke. But you won't catch the humble Toeava believing (or even reading) what's being said about her.
With the Mystics having the best attacking record in the ANZ Premiership, the combination of dynamic wing attack Peta Toeava and on-fire goal shoot Grace Nweke are being described as unstoppable at the moment.
The media-shy Toeava puts the magic between the pair down to a special off-court relationship.
"I think we have a really good connection off court so when it's come to pressure time on court it's quite easy to talk to each other .. and obviously she's so massive it's easy to read her.
"When we have those honest conversations on court it's not directed at each other it's all about performance. 
"I see so much potential in her (Nweke) and I always try and remind her of her strengths.  If I really care about someone I'll really push them to get the best out of them."
Mystics Helene Wilson was full of praise for Toeava's control of the attacking end of the court in Monday's win over the Magic calling it "world-class" while Assistant Coach Rob Wright says in a game played by giants her explosive speed and different skillset are really valuable.
The 27-year-old master of the no-look pass is pretty low-key about her own performance, and she certainly wouldn't be aware of any of the commentary about her admitting she doesn't even watch netball on TV – preferring tennis and cricket on the box.
"Obviously I've improved my fitness so that's helped me a lot to try and sustain that intensity throughout the game. But I feel the most important thing is that I'm enjoying my netball.
"I don't really focus on what's being said in the media or even look at comments. I'm all about having fun and enjoying it with my team-mates."
And just quietly we asked Toeava about the talk going round that she may well add to her one Silver Ferns cap this year.
"Obviously it's a goal for me this year but I'm just focused on what I can do best for my team-mates at the Mystics because I'm not going to get up there unless I'm playing good netball."
Toeava is enjoying work with Wright who coaches the team's attack.
"He's really good for me personally. He's really direct and I work better with people just telling me what to do, what I'm doing well and telling me straight away when I'm not doing something right."
The Mystics face defending champions the Central Pulse on Sunday who the Mystics had the better of in round four. Toeava says they'll be looking to get off to a stronger start.
"Sometimes it takes a while to get stuck into our work but I think we do it to ourselves. That's up to us leaders including myself to set the standard early so we can all play better netball."