26 Apr 2022
Stythe standing on the shoulders of Mystics giants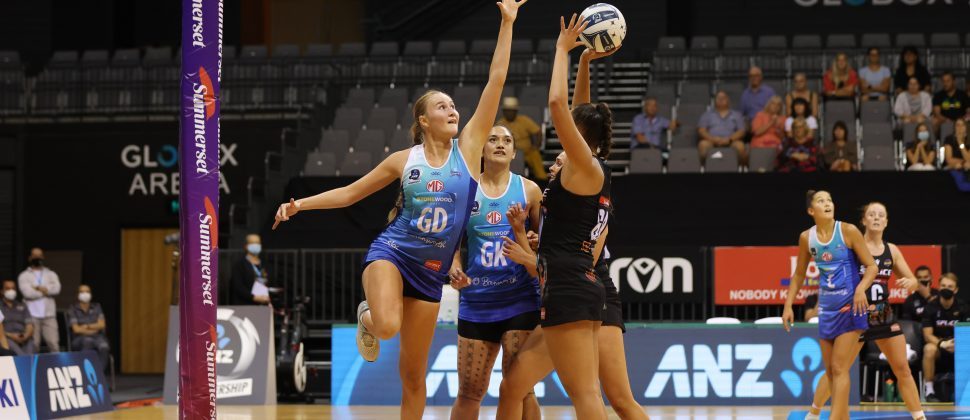 Original Author: Suzanne McFadden, LockerRoom
Straight out of high school, Carys Stythe never expected to play a role in the Mystics' defence of their national league title this season, but she's lapping up the chance to learn from the best defenders in the game.
In the Mystics dressing room, there's a spot on the bench that had been always reserved for a netball legend.
Carys Stythe had no idea of the history of that space when she sat it in before her first ever game in the ANZ Premiership this season. The nervous 18-year-old had never before stepped into the champions' changing room at the Trusts Arena.
Mystics head coach Helene Wilson walked over to Stythe and asked: "Do you realise you're sitting in a very special seat? That's where Maria always used to sit."
By Maria, she meant Silver Ferns centurion Maria Folau, who played nine seasons for the Mystics.
It meant more to Stythe than Wilson could have imagined. At home, she has a treasured photograph of herself, still at primary school, under the arm of Folau at a netball holiday programme. Stythe is dressed in her club uniform: "I was obsessed with club netball at the time, so I wore my uniform everywhere."
Folau became one of her netballing heroes. "I can't even put into words the feeling of sitting in the seat of someone who I idolised growing up," Stythe says. "So I was soaking in every single moment sitting there."
For Wilson, it's a moment in time she won't forget either. "Someone who was very special to our franchise always sat there, and I think Carys is going to be special to the Mystics as well," she says.
Stythe made an unexpected on-court debut for the 2021 ANZ Premiership titleholders at the very start of this season; the rangy, athletic defender in the Northern Marvels side coming up into a Mystics line-up hard hit by Covid.
She even took the court at goal defence in that opening game against the Magic and immediately made her mark – claiming an intercept, two gains and four deflections.
That was far from the end of it for last year's best school netballer in the country. Stythe played the first five games of the season for the Mystics, as others fell ill, before being laid low with the virus herself.
After a fairytale start to her elite netball career in her first year out of school, Stythe already looks to be an exciting prospect in the New Zealand game. And she's taking the opportunity to learn from the most successful defensive trio in the country with both hands.
"It's crazy – I can't actually believe this is happening to me," she says, wide-eyed. "But I know how lucky I am; this is the dream of every little netball girl in New Zealand."
***
Wilson has been watching Stythe closely since she started high school at Glendowie College, six netball seasons ago.
"I've been tracking her for that long, but I don't think Carys knows that," says Wilson. "People don't realise that as an ANZ coach, you're always watching. It's part of your job to see who's coming through."
Wilson is renowned for spotting young talent and bringing them through the system in Auckland. Perhaps her most famous prodigy is Silver Ferns shooter Grace Nweke.
"It's part of our culture at the Mystics to grow people. Young people are sponges and they bring really good energy and vibrancy to our team," Wilson says.
When Wilson first spotted her, Stythe would have stood head and shoulders above the other kids on court, because she's always been tall for her age.
She's now 190cm – just 3cm shorter than Nweke – but "as exciting as Grace was at the same age," Wilson says.
"She has beautiful height and she's very co-ordinated for such a tall girl. She's definitely not the complete product – there are lot of areas in her game understanding she still has to improve on. But her footwork, her speed, her ability to move, pass and catch is actually really sound for someone so young.
"But she's also shown maturity beyond her years. Young people get a lot of carrots dangled in front of them, but she's made some decisions to be really successful in the long term."
Stythe made her first step into senior netball last year, when she was still in Year 13 at St Kentigern College (where she went for her final year). She joined the Marvels in the National Netball League, one level below the ANZ Premiership.
She'd made the New Zealand U21 squad for the upcoming World Youth Cup in Fiji (which was eventually cancelled). "And I wanted to improve my game, because I knew it was another step up from school netball," Stythe says.
She started on the Marvels bench but worked her way into the starting line-up in the team who won the championship. By the end of the year, she was named the best emerging player at the Mystics.
Stythe was also pivotal in the Auckland team who won the inaugural NZ U18 championships, and was crowned national secondary school player of the year at the annual Netball NZ Awards.
Wilson then invited Stythe to be the Mystics' training partner for 2022, meaning she could experience a professional team environment while learning from three defensive masters of the game – Sulu Fitzpatrick, Phoenix Karaka and Michaela Sokolich-Beatson.
"They have such incredible experience and they're so good to me," Stythe says. "I get stressed going on the court, but they guide me and calm me down. If I make a mistake, Sulu is behind me saying: 'Don't worry; what's next'.
"I love watching from them from the side, because I have the best seat in the arena. Watching Su and Fi in the circle working together, it's like a movie. I'm like 'Don't put me on, I like the view from here'."
As a kid who "jumped on the bandwagon" and played netball because her friends were, Stythe always wanted to play centre.
"But when I got older I thought I better make good use of my height. In reps I specialised in goal keep and goal defence, which I liked more because I got to touch the ball more often," she says.
"I don't think I could handle the pressure of being a shooter. I don't know how they do it."
She is the tallest in her family – although her parents are both 1.8m (6ft) tall. "Essentially my height's helped me here, so I'm really lucky," Stythe says.  Her parents also gave Stythe her lyrical name – "My dad is Welsh; Carys means love," she says.
Stythe is very close to her family , and although she's flatting in west Auckland (with fellow Marvels players Addi Albert-James, Jessie Taylor and Holly Mather), she often goes back home to Glendowie in the east.
She has a special bond with her 12-year-old sister, Isla, who has autism. Isla also happens to be the reason Stythe wants to work with children with special needs.
"I love her. She's so funny and really cool. She had a dance class and I'd go and help, or I'd go to her playdates and look after her and her friends," Stythe says.
"She sometimes comes to my games, with her earphones and her chippies, and she usually falls asleep. She has an assistance dog and uses him as a pillow, so I can spot them in a crowd straight away. I like knowing she's there."
Stythe started the year studying occupational therapy fulltime but didn't realise how intense managing the workloads of both sport and study would be.
"I didn't think I'd be needed quite as much [by netball] as I have been," Stythe says. "So I'm going to start studying teaching part-time next semester."
She's had the help of former Silver Fern Debbie Christian, who's the national relationship manager at the New Zealand Netball Players Association.
"Every time I'm struggling, I'll just text Debbie. It's amazing to have the opportunity to have someone like that," Stythe says.
Stythe was back on the Mystics bench on Sunday, for their 68-44 drubbing of the Stars (equalling their highest winning margin in premiership history), but she's still on her comeback plan from Covid.
She has some lofty goals – to secure a fulltime contract with the Mystics, which isn't likely to be too far into the future, and one day play for the Silver Ferns.
"I want to get fitter and faster, and work more in the goal d space, because I've played most of my netball at goal keep. People have been like 'Oh she's tall, we'll stick her at the back'. But the Marvels pushed me out more, and I've being playing goal d for the Mystics with Sulu behind me," she says.
"I need to work on my through-court play mainly, because I struggle with it, especially at that level. But it's so easy to learn at the Mystics – the whole culture and environment has been so welcoming.
"I was pretty shy starting off; I think Su said that in a TV interview, and Mum messaged me and said 'You, shy?!'
"I love that the girls have all been unapologetically themselves, which allows me to be myself. If I'm shy it's only because I'm playing with my idols."
* In the only other ANZ Premiership game this weekend, the Pulse pulled out an exceptional final quarter of defence to fend off a determined Tactix, 58-41. Both matches featuring the Steel on the weekend were postponed with Covid sweeping through the southern side.