4 Feb 2021
NORTHERN MYSTICS WELCOME FRESH FACES TO PRE-SEASON TRAINING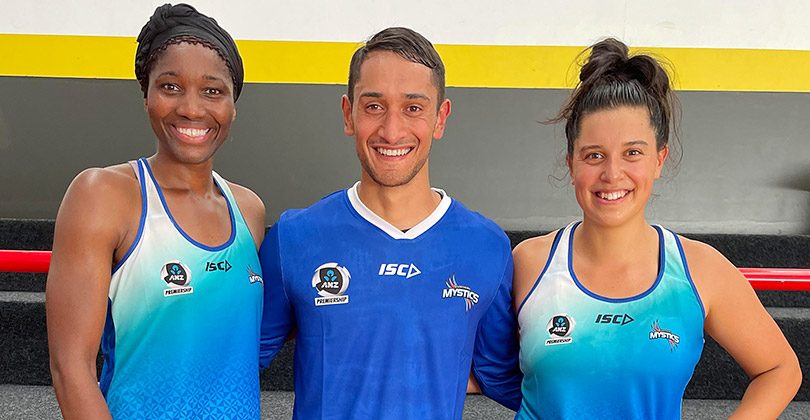 The Northern Mystics have called in a number of fresh faces to bring a new dynamic edge to their 2021 ANZ Premiership pre-season training.
England's Commonwealth Games-winning captain Ama Agbeze, New Zealand Men's captain Kruze Tangira and former Australian Super Netball player Claire O'Brien along with members of the Northern Zone's Development Programme, have joined the Mystics in their build-up to this year's Premiership.
Mystics coach Helene Wilson said they were thrilled to have the three experienced netballers join training to benefit the Mystics' pre-season.
"By bringing in other guests we feel it helps to lift the standard of competition and intensity during our pre-season training," she said.
"But it's also important for us to invite development players from our Zone's programme so they can experience the level of expectation of training of the ANZ Premiership."
Wilson said the likes of Agbeze, who captained England to gold at the 2018 Commonwealth Games, shared her insights into daily habits for elite netballers to perform while Tangira has brought athleticism to our team and his own expertise and knowledge from the men's game.
"Both of these international netballers add a different dynamic to challenge us, while also bringing that professionalism required at the elite level which is great for our young Mystics side."
Claire O'Brien, who played in the former trans-Tasman league and the Suncorp Super Netball, has moved to Auckland from Australia and has been working with the Mystics' attacking unit.
"She brings a tenacious attitude to training and we're lucky to have her sharing her experiences," Wilson said.
The Mystics' coach said it was also really important to include development players from the Zone's programme. "We are excited about connecting with local athletes this year and this process begins with a training game against the National Netball League trialists and then extending training opportunities during their upcoming squad trainings."
Wilson explains, "It's not just about letting them experience an ANZ Premiership pre-season but it's also significant for our contracted players to understand the quality of development players coming through our zone systems."
"We have a strong belief in building our performance levels within our Zone, and believe connection between program's lifts the work ethic and commitment required at this level for all involved."
The Northern Mystics will announce their official training partners for the 2021 ANZ Premiership season in the coming weeks.
The Mystics open their 2021 ANZ Premiership season with a home game against the Splice Construction Magic at The Trusts Arena in Auckland on Monday 19 April.