3 Dec 2018
Northern Mystics secure partnership with Quality Hotel Lincoln Green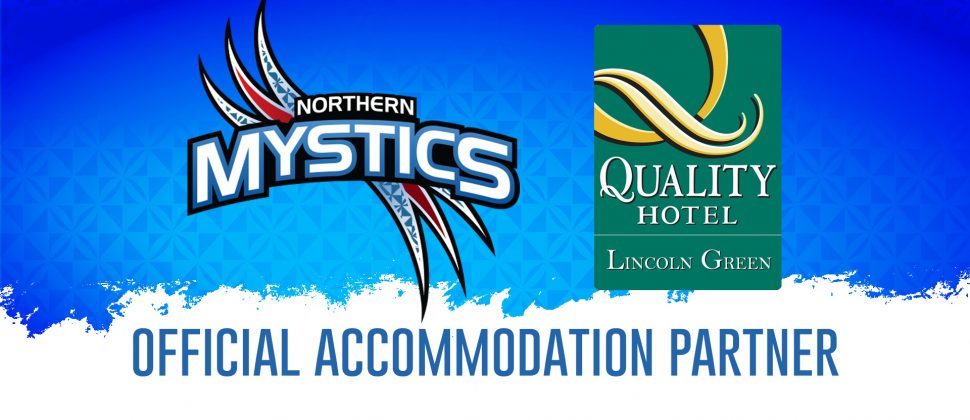 The Northern Mystics are pleased to announce a new partnership with local accommodation provider Quality Hotel Lincoln Green.
Netball Northern Zone & Northern Mystics Chief Executive, Nicole Spratt said she is thrilled with the new partnership. "Establishing new relationships within our community is great for everyone involved and the Quality Hotel Lincoln Green offers so much more than accommodation through being part of The Trusts, well known for giving back in West Auckland"
Coach Helene Wilson says "The Northern Mystics are excited to make the Quality Hotel Lincoln Green our home base where we prepare well before we perform for our fans. Without their support we wouldn't be able to come together to eat and sleep and prepare well, ready for game day. We love being involved with our community and are very grateful for the Lincoln Green's support in 2019!
Quality Hotel Lincoln Green General Manager, Walid Bayouk says he is proud to partner with the Northern Mystics.
"Being part of The Trusts family and giving back to the community is at the core of our operating strategy; which is why this partnership is so important for us, as it not only benefits us and the team, but also reaches into the community to families and fans that stand behind the Northern Mystics.
The Quality Hotel Lincoln Green family are looking forward to working with the Northern Mystics and I'd like to take this opportunity to wish the team a successful and victorious 2019 season."
Quality Hotel Lincoln Green and The Trusts Profile
Discover Quality Hotel Lincoln Green & Conference Centre, less than 15 minutes from the CBD, with easy motorway access and complimentary parking for over 150 cars.
Located in the heart of West Auckland, Quality Hotel Lincoln Green provides quick and easy access to Auckland's central business district and is in close proximity to local wineries, bush walks, Waitakere ranges, The Trusts Arena and beautiful west coast beaches.
With 70 accommodation rooms offer the choice of three main room types, Quality Hotel Lincoln Green is sure to have a room to meet your requirements. A choice of Studio, Superior or Premium rooms will suit either the corporate business traveller or leisure guest.
Quality Hotel Lincoln Green Conference Centre boasts flexible spaces to accommodate plenary, breakaway and banquet events all on one site. Food and beverage options are plentiful, to suit all dietary requirements with the ability to cater for up to 300 delegates.
The hotel is one of many outlets owned and operated by The Trusts in West Auckland.
The Trusts generate profits from retail, hospitality and investments to give back to the West Auckland community via the Million Dollar Mission, grants, sponsorships and household distributions.
For more information check out: https://www.lincolngreen.co.nz/index.html
www.thetrusts.co.nz