23 Aug 2021
NORTHERN MYSTICS COMPLETE TEAM WITH EXCITING SHOOTING TRIO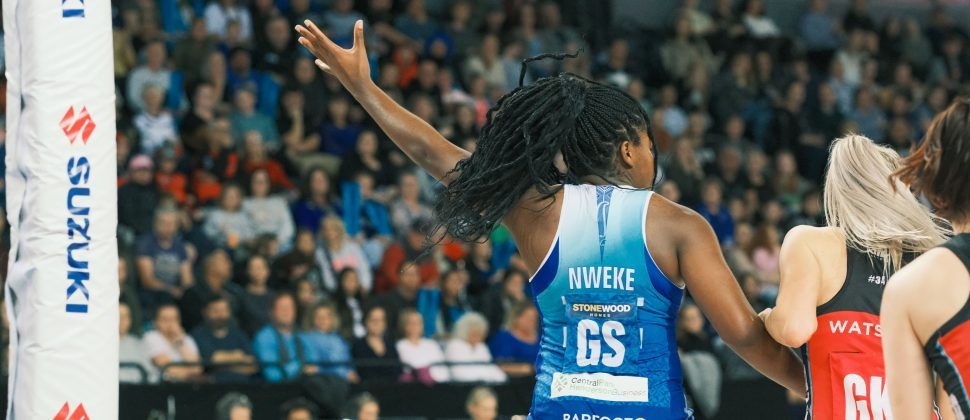 New Silver Fern Grace Nweke will again anchor the Northern Mystics shooting circle as the ANZ Premiership defending champions complete their team with a strong shooting trio for 2022.
Nweke will be joined by Filda Vui, who has been rewarded for her contribution to the side this year, while Monica Falkner makes the move across town to join the Mystics shooting circle after a season with the Stars.
Coach Helene Wilson said she was thrilled to announce the exciting trio and paid tribute to the work done behind the scenes to help rebuild the Mystics shooting end in recent years. "Securing two young shooters is a reflection of that hard work, as previously we have been fortunate to rely on the experience of Bailey Mes. In the modern professional era it is important to succession plan as athletes will always seek opportuities to grow and extend themselves in the environment that is right for them" says Wilson.  
Mystics are excited for Mes' move to the WBOP Magic and fully support her decision, "I have absolutely loved my time at the Mystics and it feels right finishing my time on a high with a premiership win. Having a change in environments for new experiences is something I am looking forward to", says Mes. 
As the Northern Mystics longest serving player, Mes will always be a well respected member of the Northern Mystics whanau. Wilson says, "We will miss Bays, her contribution not only on court but also as a person. She has always set the standard at Mystics in her training ethic and her willingness to support the growth of others. We wish her well with the WBOP Magic".
The Northern Mystics will be looking to build on the success of 2021. Nweke set a new ANZ Premiership record in netting 794 goals during the regular season, averaging 52.9 per match and shooting 85 per cent of the Mystics' goals this season.
"Grace's journey has been accelerated over the past three years, but she has grown immensely in 2021. The most exciting thing is she still has the drive to be better and believes the Mystics is the right environment to ensure that growth."
Vui, who played her first full season with the Mystics this year, is another Waitakere local who continues to grow from strength to strength. Combining her work ethic with a natural ability to read the game has earned the 25-year-old increasing court time.  "Filda's consistency and accuracy in the shooting circle will be something we look forward to seeing more of next year" says Wilson.
Wilson is also excited to secure the signature of Monica Falkner who she believed would complement the Mystics' game style of using ball speed and aerial play on attack. 
Falkner said she was excited about the season ahead, hopefully getting some solid game time after the last couple years off the court.  "I am excited about the kind of game I can play at Mystics with the different styles of players we have. With the majority of the team still there I'll just slot right in there. Can't wait!," she said.
Coach Helene Wilson says Monica's inclusion in the Mystics team is an exciting way to solidify every area of the court as Mystics aim to build on their success through retaining the core of the 2021 team.  
"To have the calibre of players we have across our entire squad is incredibly exciting and a great base to ensure we all work hard and continue to lift the performance bar next year."
Mystics captain Sulu Fitzpatrick said she was thrilled to retain a strong core from their successful 2021 team.
"I'm really happy we've been able to retain our core team, and we get to welcome back our players who have had some time away from the court. But I also want to send so much love to our ladies who have new journeys ahead," she said.
"We are looking forward to welcoming Monica into our environment and building towards the 2022 Mystics' campaign."
Northern Mystics 2022 team:
Shooters:
Monica Falkner, Grace Nweke, Filda Vui
Midcourters:
Tayla Earle, Fa'amu Ioane, Claire O'Brien, Peta Toeava
Defenders:
Sulu Fitzpatrick, Phoenix Karaka, Michaela Sokolich-Beatson