17 Apr 2019
Newsroom.co.nz – Taking care of amazing Grace Nweke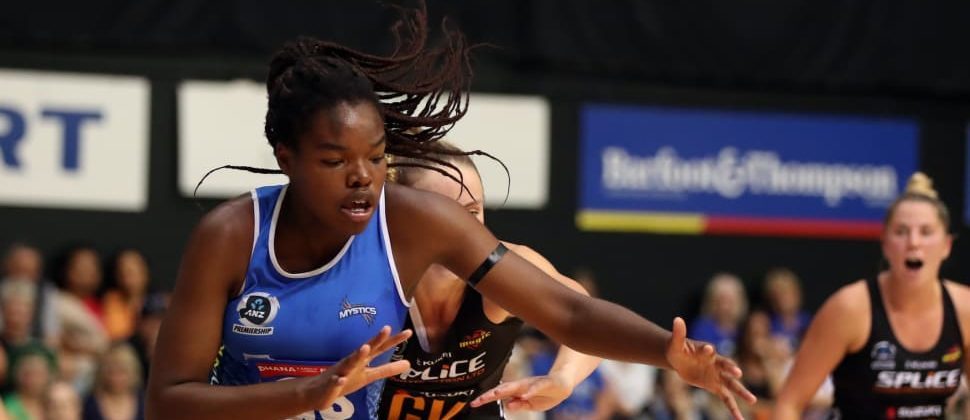 In so many ways, Grace Nweke is a normal 17-year-old Kiwi girl.
With braces on her teeth and streams of beautifully braided long hair, she likes going out to lunch with school friends, and catching up on episodes of Riverdale on Netflix.
She has her learner's driving licence, and has just had her first lesson with her dad, Fortune, who's an Uber driver. She has chores to do at home; she squabbles with her twin brother.
After Wednesday night's netball practice, she had to work on two NCEA assignments due to be handed in today.
She's also shy. She struggles with playing sport in front of a crowd. "I'd much rather have an empty arena, with just the players and officials," she says.
This is where it starts to become not-your-average teenager's life.
When you already have your own cheer team in the crowd at a national premiership game, all wearing purple t-shirts printed with '#Nweke #Tu Meke' in gold.
When you're the youngest, and one of the tallest, players in the national league, and you're leaping up and snatching the ball away from a netball legend like Casey Kopua.
And when you're being hailed as the next great Silver Ferns shooter – whether you want it, or not.
This is Grace Nweke's new life.
In the past few weeks, Nweke has become a (sometimes reluctant) netball star. Recognised on the schoolgirl netball courts just last year as a player with loads of potential, this season the Avondale College student was taken into the Northern Mystics fold.
First named in the Mystics' second-tier team, the Marvels, for the Beko League, Nweke was soon brought into the Mystics as a back-up shooter. After playing five ANZ Premiership games – and starring in many of them – she signed up for a full contract to the Mystics a week ago.
Caught up in the whirlwind, Nweke has at times felt overwhelmed by the speed of her netballing evolution.
The first few trainings this summer were difficult, she admits, and there were tears. "I had a lot of self-doubt, just coming off a school season. 'Why should I be here? I'm sure there are better players'," she says. "I didn't believe in my netball ability."
But with the help of the woman who 'discovered' her, Mystics coach Helene Wilson, and the experienced and encouraging players around her, Nweke has found her confidence, and her place in the elite netball side.
Although she loves to use her incredible leap in the game, Nweke is being taught to keep her feet firmly on the ground off-court. Which means finding the balance between netball stardom, and calculus homework.
Perfect poker face
Nweke's Nigerian parents came to Auckland from South Korea before Grace, and her twin brother Agape, were born.
"My dad always tells me they were living in South Korea the year Helen Clark came for a visit. He saw pictures of New Zealand in the newspaper and thought 'Wow, what a beautiful place to raise a family'," Grace Nweke says. "Before they knew it, they were on a plane to New Zealand."
Fortune and Chidinma, a hospital nurse, have raised six children – Grace is one of two sets of twins. All have gone to Avondale College.
Nweke (pronounced Weh-keh) began playing "not competitive – just for fun" netball in Year 4 at primary school. In her first year at intermediate she made the top team. "I was super-excited about that. But then I didn't make it in Year 8, and that was heart-breaking for young Grace," she says.
She gave basketball a go in Year 11: "I was horrible at it. I would stop and stand under the hoop and shoot it like a netball."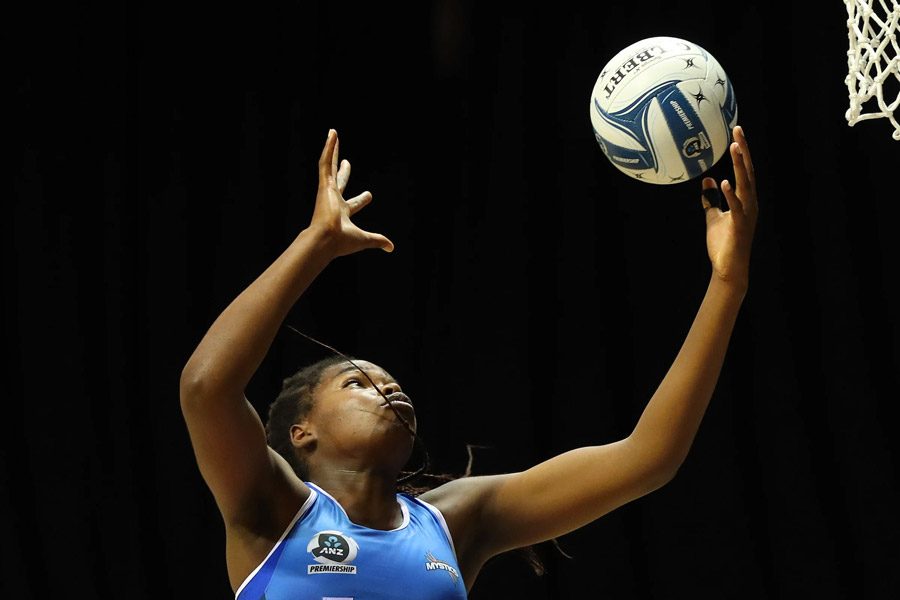 Nweke's height, long arm span and jump for the ball are among her key netball attributes. Photo: Michael Bradley Photography. 
Then last year, in Year 12, Nweke came under the coaching of Rachel Rasmussen – a NZ U21 world champion – in the school's premier netball team. She was also playing club netball for New Jaks, and reps for Waitakere.
Rasmussen knows what it's like to be under the spotlight at a young age. She was 16, also a student at Avondale, when she played at the 2000 World Youth Cup.
"Rachel tells me to take all the opportunities I can, to keep up my work ethic and enjoy it all," Nweke says.
Helene Wilson first spotted Nweke at last year's national U17 tournament, then again at the North Island school champs.
"I was intrigued with Grace," Wilson says. "She was taller than anyone else at school, but there are lots of tall netballers. Her point of difference was that she'd often have two defenders right on her, squeezing her, and she coped with being roughed up. Her temperament on court was so good for a young person."
Wilson often refers to Nweke's "poker face" on court – looking so unruffled, rarely breaking into a smile.
"I also saw her holding and creating space for herself to catch the ball," Wilson says. "And I could see she had a really long arm span, that she could jump, and catch the ball at the height of the hoop.
"Those are things you can't coach a player to do; she does them instinctively. I knew I could work with that, and make her into a high performance netball player."
Wilson met with Nweke and her parents, netball coaches and school teachers, to explain the opportunities the girl could have with netball, and what the Mystics would do to ensure a player so young would be taken care of.
With everyone's blessing, Nweke joined the Northern Zone elite performance programme and became a Mystics training partner.
"It's all gone really fast since then," Wilson says.
"The sky is the limit"
Nweke is 1.93m tall. That's 3cm shorter than Tactix shooter Ellie Bird, but around the same height as her shooting idol, Irene van Dyk.
Wilson is certain that Nweke's wing span is longer than her height (but Nweke can't remember anyone ever measuring it).
Her elevation also gives her an advantage. "Jumping comes easy to me. I love getting off the ground," she says.
"I really enjoy doing high jump, so it comes naturally to me on the netball court to get the ball as high as I can." Her personal best high jump height is 1.63m, which landed her seventh placing at the national secondary school championships this summer.
Van Dyk, arguably the modern game's greatest shooter, has already spent time with Nweke, sharing some of her knowledge. They met at netball's national development camp in January, and van Dyk – the coach of Nweke's "mini team" – was more than impressed.
"She's gorgeous and so humble," van Dyk says. "She's honestly like a sponge – everything you ask her to try, she gives 100 percent.
"She needs to stay grounded and do a lot of shooting so it becomes comfortable, and work on her range and movement in the circle. She has so much to learn about, but with her pure natural ability, she's carving it up already. The sky is the limit for this chick!"
Nweke was "fan-girling the whole time," she laughs. "Irene has so much wisdom and is so caring; there's so much I can learn from her. It's like having a netball aunty all the way down in Wellington."
At times, she says, she finds it difficult to believe she is physically jammed between Silver Fern defenders like Kopua and Kelly Jury – and can still get her hands to the ball first.
"On court, I have to pinch myself: 'You just took the ball from Casey! And she's getting annoyed with you!'" Nweke laughs. "To actually be on court with these amazing, inspiring women is an honour."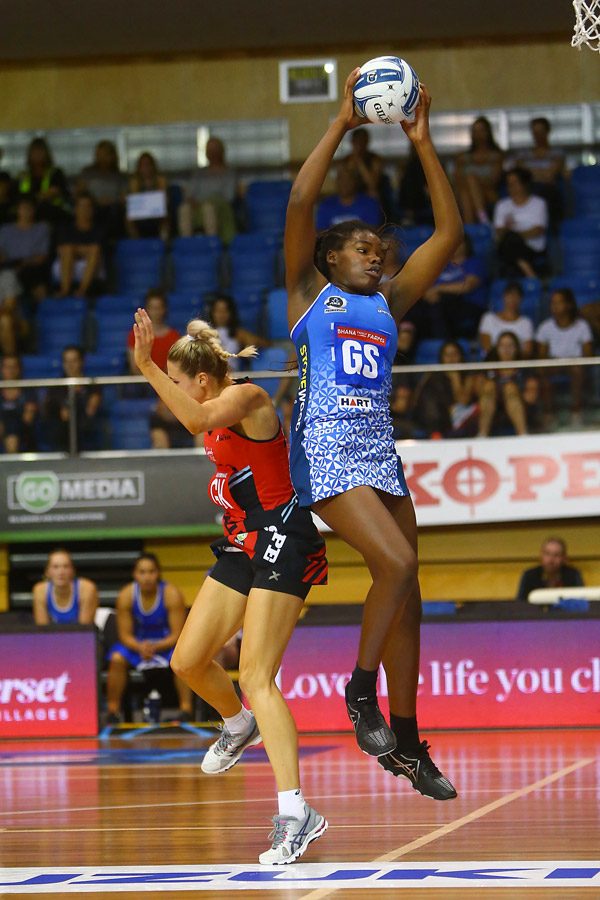 Nweke takes a high ball up against Tactix defender Jane Watson in the ANZ Premiership. Photo: Getty Images.
The Mystics haven't worked a lot on Nweke's shot. Virtually all her attempts are straight under the hoop, and so far she's shot 185 from 218 attempts (85 percent accuracy). If she misses one, there's a good chance she'll collect the rebound for another go.
Nweke pays credit to the Mystics midcourters – players like Elisapeta Toeava and Tayla Earle – who are now putting the ball into the perfect space where she can pull it in, and her defenders can't.
"On the court I look for reassurance from my feeders. Just eye contact, or a smile, or a thumbs up that let me know 'It's okay – you're doing great'," Nweke says.
"I think they're quite excited about how far they can push me. Testing the limits of a pass if it's too fast or too high. It's fun for me, jumping up and getting that ball."
Take heart of Grace
Nweke won't forget the first day she came to a Mystics training – just 16 and very nervous.
"I've always struggled coming into new team environments, not knowing anyone," she says. "I was dropping all the balls and stepping. I couldn't pass properly. I was second-guessing myself."
She told the coach: "I don't think I'm good enough to be here." Wilson assured her that she didn't have to be at the same level as the rest of the squad – she was there to learn.
"But the more I did it, and realised I had the support of Helene, the girls and the team management, the more I learned about my abilities, and believed I deserved to be here," Nweke says.
There are games where she still struggles with the mental challenge of playing at this level.
"The second game we lost to the Stars, I was really upset about my performance. I have a really high standard for myself. If I miss a couple of goals consecutively, it plays on my mind," she says.
She's coming to grips with crowds: "Running on court and hearing people cheering and supporting me makes things a lot easier." Especially when there's a band of her Waitakere netball supporters in their #Nweke #Tu Meke uniforms.
The Nweke family are now netball converts – especially her "football-head" father, Fortune. "Now he's watching all my games, talking about the other shooters, checking my percentage each quarter. He's become a coach after just two months watching it."
They support her in sport, but want her to succeed academically too. A strong all-round student at Avondale, she loves English and calculus, and wants to study computer science at university next year.
As well as coach, Wilson has become "the homework police" – making sure Nweke stays on top of her schoolwork.
"I tell her 'If you want to be a quality netballer, you have to be a quality person – and have a life outside netball'," Wilson says. "It's tough, but we're on this journey together to make it work."
Nweke's physical well-being also has to be cared for. School netball isn't so testing when you tower over your defenders. It's unlikely she will play a full 60 minutes for the Mystics this season, revolving with shooters Bailey Mes and Jamie Hume.
But her biggest lesson, she says, is learning patience. "I'm used to playing school games where the wing attack has the ball on the transverse line and it comes straight in. We'd rarely work the circle edge, and I would be ready each time – boom, boom, boom. Here at the Mystics, it's about just knowing that the ball is coming… and if I keep holding strong and changing my angle slightly, it will come."
There's been plenty of chatter in recent weeks about Nweke solving the Silver Ferns' shooting dilemmas – even at this year's World Cup. While coach Noeline Taurua acknowledges the teen is fantastic future talent, she knows she's still raw and inexperienced.
Nweke is aware of the hype, and says it's difficult to fathom. "Obviously I have goals that I want to reach, and I'm taking it step by step, but I don't want to jump the gun and say I'm going to be a Silver Fern in the next campaign. I still have so much learning to do. I know what I want, and when I want it. So I'm keeping it simple, working hard and I'll get there in the end."