24 Nov 2013
NEW MYSTICS SIGNING MOTIVATED BY LATEST OPPORTUNITY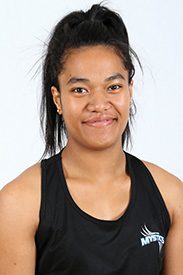 It can take a few practices to get around her tongue-twister name, but once you've got the hang of it Temalisi Fakahokotau will be one name you won't forget in a hurry.
Singled out as one to watch in the 2014 ANZ Championship, teenager Fakahokotau is on the fast track to netball notoriety signing to the Northern Mystics as one of 12 on the roster for next year.
The 1.82m tall defensive player has taken giant strides forward over the past few years since being spotted by Emerging Talent Selectors in 2012. Fakahokotau was named in both Trans-Tasman, and New Zealand Secondary Schools Squads, followed by the Emerging Talent Accelerant Group selection and Netball Northern Zone U23's.
Despite her meteoric rise into the Northern Mystics, Fakahokotau says the first season is all about listening and learning.
"I'm quite young and going to be playing with really experienced players, I want to learn as much as I can and apply those things to my own game," she said.
"I want to continue improving so it benefits everyone else."
"Mystics coach Debbie Fuller is a defensive coach which is great, so my aim is to take in every little bit of advice she gives me."
New Zealand-born Fakahokotau is of Tongan descent and one of nine siblings, including seven brothers and one sister. Her high school years were spent at Westlake Girls High School on Auckland's North Shore where she received Sportswoman of the Year award in 2012.
The 19-year old draws inspiration from many of her netballing heroes but admits the upcoming ANZ Championship games for the Mystics may be a bit daunting to start with.
"I do get really nervous just thinking about it."
"I think the key will be focusing on what I need to do personally and for the team."
"What I call 'mental talk' works for me because sometimes I'm so much in my own head," she said.
Fakahokotau has already had a taste of ANZ Championship netball as a training partner in the Northern Mystics earlier in 2013. She said it was an eye-opener, but that it has been good to have a year to prepare before hitting the competition head-on in March.
"There are players I can't wait to play against, like Irene van Dyk. I have played against her just once in pre-season and she carved me up. I want to come up against her again to see how much I've improved."
The Northern Mystics had a forgettable 2013 season, the team ravaged by injuries to key players and after a shaky start in the competition, failed to recover. All of the Mystics more inexperienced players got court time with some playing out of position for cover.
Fakahokotau says while it would be good to get some court time in the upcoming season, she hopes it won't be at the expense of injured players.
"It would be nice to get some court time, but it's what's best for the team. I do plan on making the most of my opportunities."
Fakahokotau will be juggling a part-time job at Netball North Harbour and study with her burgeoning netball career next year. She has already completed an early childhood certificate and will continue studying primary teaching at AUT (Auckland University of Technology) to fill what is going to be a very busy schedule.