16 Feb 2016
NETBALL SIGNING FOR LOWIE FOUNDATION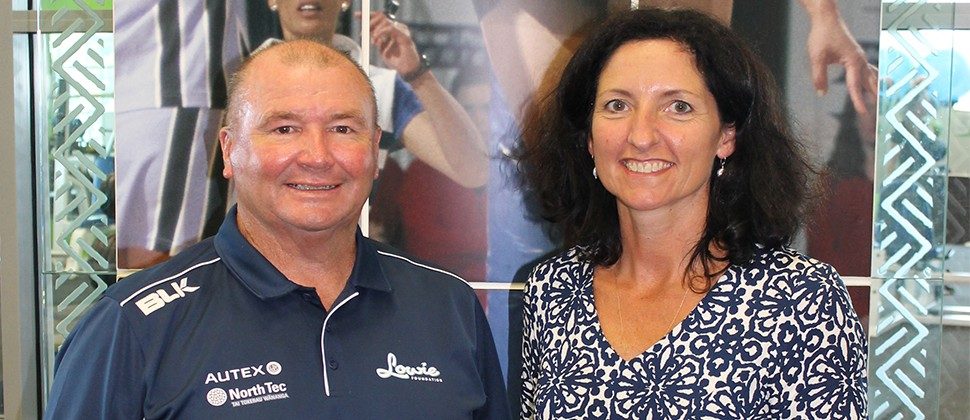 NorthTec's partnership with the Lowie Foundation has taken another step forward with the signing of a Memorandum of Understanding with the Netball Northern Zone.
The MoU commits both organisations to work together for the benefit of high-performance athletes who will study at NorthTec via the Lowie Foundation. It was signed on Thursday (12 February) by Graham Lowe, on behalf of the Lowie Foundation, and Julie Paterson, Netball Northern CEO.
The Lowie Foundation's education and sport development programme gives young Northlanders a unique opportunity to combine their sporting skills with academic learning. Students on the programme benefit from personalised high-performance training regimes and educational programmes tailored to their needs.
The MoU with Netball Northern – which owns the SKYCITY Mystics team, featuring Silver Ferns stars like Maria Tutaia and Cathrine Latu – commits the Zone to identifying talented young netball players to join the Lowie Foundation programme.
It will enable players who are gifted at the sport, but are no longer in school, to both continue their education and have the opportunity to develop links with the Zone development programme and the Mystics team. Under the programme, students receive full-time education and training for a year, free of charge.
NorthTec Chief Executive, Paul Binney, said: "This MoU is really good news for aspiring young netball players in our region, as it will help them achieve their sporting goals while also boosting their educational achievements. The Lowie Foundation already has a strong relationship with the National Rugby League, which is assisting promising league players to fulfil their sporting dreams. This new relationship offers great opportunities to girls who are equally talented at netball."
Julie Paterson said: "We are delighted that Netball Northern is now associated with this very inspirational foundation. Sport is an ideal vehicle to support the growth of young people and young leaders in our communities – it makes complete sense to have education and sport working closely together to support this goal."
Lowie Foundation programmes based in Whangarei and Kaitaia were launched in 2015, with several students achieving success in their sporting codes. Far North Crossfit specialist, Brooke Ah Sam, represented New Zealand in an international competition in California and returned with a gold medal, while young rugby league players are attracting the attention of New Zealand and Australian Under-20 NRL teams.
In 2016, Lowie Foundation programmes are taking place in Whangarei, Kaitaia and Moerewa. To enrol or to find out more, contact NorthTec on 0800 162 100, or visit www.northtec.ac.nz.