30 May 2021
MYSTICS GO DOWN FIGHTING TO SOUTHERN STEEL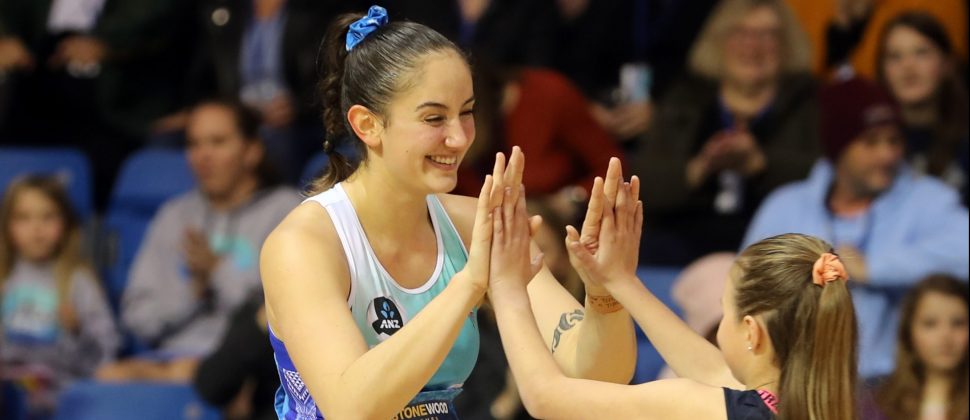 On the back of a composed performance, the Ascot Park Hotel Southern Steel have held on for a significant victory over the second-placed Northern Mystics.
The 63-58 win at The Trusts Arena in Auckland denied the Mystics from climbing to outright top spot on the ANZ Premiership ladder.
There was plenty to celebrate for the hosts as they marked 100 national league matches for goal attack Bailey Mes while defender Kate Burley marked her 50th league match.
In contrast it was a debut celebration for Mystics' Claire O'Brien who was playing her first ANZ Premiership match, replacing regular pivot Tayla Earle ruled out of the Round 7 game due to a head clash at training during the week. She matched up against Renee Savai'inaea who was pushed forward to allow the height of Kate Heffernan to be used against influential Mystics wing Peta Toeava.
Early errors allowed the Steel to settle on attack and pull ahead on the scoreboard, leading by four goals mid-way through the opening stanza.
Mystics captain Sulu Fitzpatrick did all she could to spur her team on with three deflections and an intercept in the second quarter and late in the spell it looked as if her team-mates were ready to respond with a couple of quick goals.
But every time the hosts looked like closing the gap, an error on attack gave the Steel the opportunity to settle back into the driver's seat and with shooter George Fisher netting 93 per cent of her 27 first half attempts at goal, the visitors maintained a six-goal buffer to lead 32-26 at the main break.
Two quick goals straight after the whistles looked to have the Mystics back on track but an ankle injury to Fa'amu Ioane early in the third stanza added to the disruption in the midcourt – already with Earle – as the Steel kept them at arm's length.
Coach Helene Wilson made a number of positional changes for the fourth quarter with Fitzpatrick and Burley swapping bibs and Filda Vui coming on to replace Mes.
But the Mystics were unable to penetrate the Steel's unflappable armour in the closing stages of the game.