15 Nov 2021
MYSTICS EXTEND MAJOR PARTNERSHIP WITH BARFOOT & THOMPSON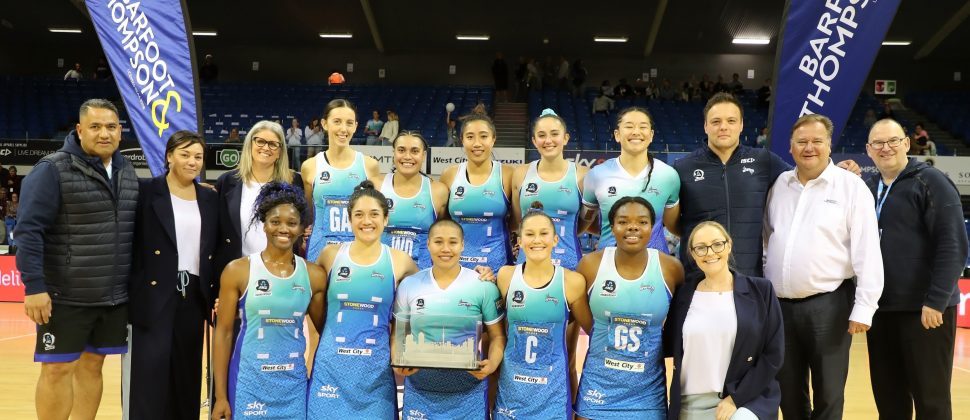 The Northern Mystics are delighted to announce their long-standing support from Barfoot & Thompson will continue with the Auckland and Northland real estate company re-signing as a Principal Partner.
The 2021 ANZ Premiership champions have extended their partnership with Barfoot & Thompson who have been supporting netball for over 10 years, for another three years.
Netball Northern Zone and Northern Mystics Chief Executive Phil Vyver said they were thrilled to continue their partnership with Barfoot & Thompson who had been an important part of the Mystics family.
"We are incredibly proud to have Barfoot & Thompson as part of a very supportive extended Mystics family."
Barfoot & Thompson first became involved with the Mystics when the former trans-Tasman competition was formed in 2008 and has helped to nurture some of New Zealand's leading netballers.
They have also sponsored the annual Barfoot & Thompson Northern Challenge since 2018 which sees Auckland's two premier teams, the Mystics and Stars, go head-to-head during the ANZ Premiership with the winner awarded the 'Barfoot & Thompson Challenge' trophy.
"Barfoot & Thompson have been along for the ride since the beginning for the Mystics and have experienced the highs and lows alongside the club. It was really special to have them by our side when claiming the 2021 ANZ Premiership and we look forward to building on that success next year," Vyver said.
Barfoot & Thompson Managing Director Peter Thompson said they were pleased to continue their support of the Northern Mystics.
"It is our goal that sponsorships such as this will help the growth of netball at a community level through to those who reach professional status. Netball is a great sport that teaches teamwork, commitment and the value of hard work. 
We applaud the Northern Mystics who are not only incredible athletes but also fantastic role models. Our company is proud to be an integral part of the places where we do business. Whether supporting sports teams, or helping community organisations, we love to play a part in making Auckland and Northland great places to work and live." 
The Mystics will begin their title defence against the Magic in Hamilton when the 2022 ANZ Premiership whistles blow on 13 March.