22 Jun 2022
MG MYSTICS RETAIN STRONG SQUAD FOR 2023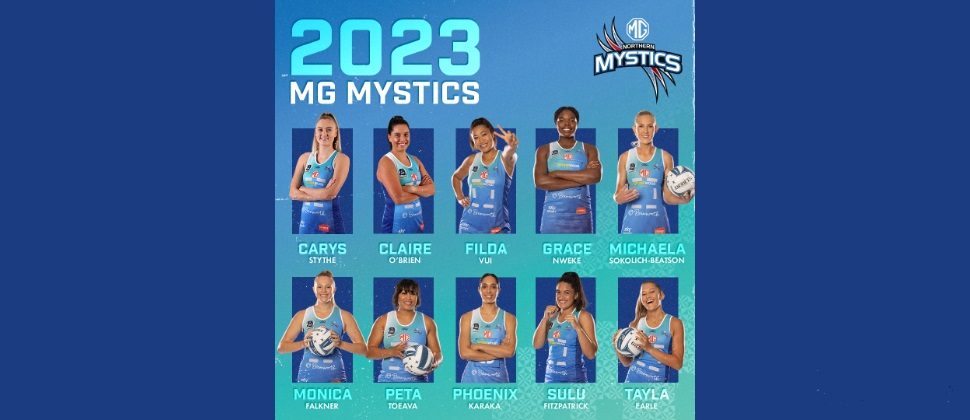 The MG Mystics are delighted to announce the squad that made the elimination final in 2022 will return virtually unchanged to recapture the ANZ Premiership title in 2023.
Exciting defender Carys Stythe, who was contracted during the season, joins the 10-strong squad on a full time basis with Fa'amu Ioane's shift to the Central Pulse.
The  MG Mystics will again be led by Silver Ferns defender Sulu Fitzpatrick with fellow international defenders Phoenix Karaka and Michaela Sokolich-Beatson, and the inclusion of Stythe, rounding out the defensive end.
Silver Ferns trialists Peta Toeava and Tayla Earle will again anchor the midcourt alongside Claire O'Brien while the outstanding Grace Nweke leads a talented shooting trio that includes Filda Vui and Monica Falkner.
Captain Sulu Fitzpatrick says it is exciting to retain a team that achieved so much through an extremely difficult season.
"We started the season off strongly and in the back end we learnt a lot about adversity. We know what it takes and we are prepared to do what it takes to be better next season' says Fitzpatrick.  "Keeping our collective together means we know each other well, so we can keep it real on and off the court to connect and be better."
MG Mystics CEO Phil Vyver said it was great to have retained virtually the same squad for next year, especially as the hunt for a new head coach has now begun.
"Having the same players, along with the support of assistant coaches Rob Wright and Tia Winikerei, and the same management team, should make it easier for a new coach to carry on from where Helene Wilson has left off.  They are a fantastic group of players and I'm confident we will find the right coach to take the MG Mystics to an even higher level next year."
2023 MG Mystics:
Sulu Fitzpatrick
Michaela Sokolich-Beatson
Tayla Earle
Monica Falkner
Phoenix Karaka
Grace Nweke
Claire O'Brien
Carys Stythe
Peta Toeava
Filda Vui