11 May 2017
MATCH REPORT – SKYCITY MYSTICS vs WBOP MAGIC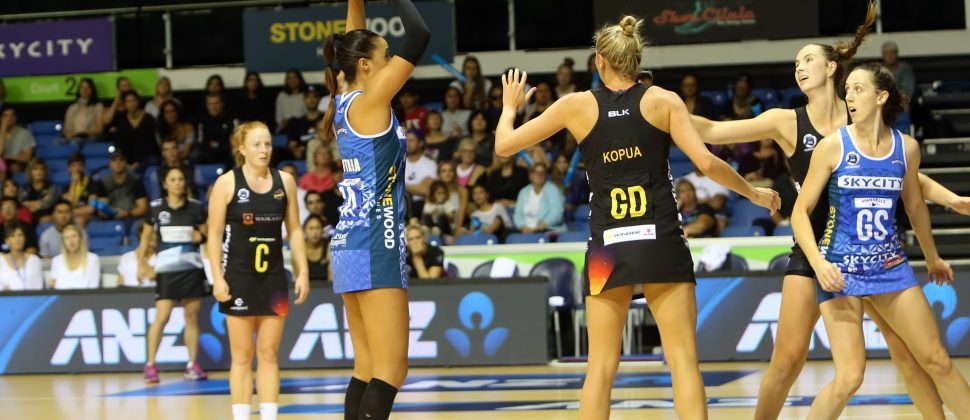 The SKYCITY Mystics travelled to Hamilton with one goal – to pick up two ANZ Premiership points, and that's exactly what they did. They defeated the Waikato Bay of Plenty Magic for the second time this season, 59-55 in Hamilton.
It's a hugely important win, with the playoff race well and truly heating up between the SKYCITY Mystics, Central Pulse, Magic and the unbeaten Southern Steel.
Co-captain Maria Tutaia and Bailey Mes' shooting was on point last night. Tutaia produced an MVP performance, shooting at 86% (31/36). Mes continued her rebounding dominance, pulling in four, and also shooting at 80% (28/35).
It was a very tight first quarter, with both sides making very few mistakes. Co-captain Anna Harrison and Michaela Sokolich-Beatson created some great early defensive pressure. SKYCITY Mystics wing attack Elisapeta Toeava had a great tussle with Magic wing defence Sam Sinclair, with the pair chipping away at each other in the opening quarter.
Both the first and second quarters got scrappy towards the end, but after leading by one goal at quarter time, the SKYCITY Mystics had a 28-24 buffer at half time.
After leaving the court midway through the second half with an ankle niggle, Toeava returned at wing attack and continued her solid form. At times, she created some freakish plays, showing off her remarkable balancing skills along the baseline and sideline.
The SKYCITY Mystics got on a roll at the start of the third quarter, scoring five in a row before the home side rung in the changes. Harrison was again outstanding, picking up five rebounds, three intercepts and six deflections in the match. The famous 'Harrison Hoist' also made a brief comeback in the middle of the encounter. The visitors led 45-38 at the end of the third quarter, but like they did in the final spell at The Trusts Arena last month, the Magic crept their way back in the last 15 minutes.
In the final quarter, Sasha Corbin re-entered the game at centre, while Samon Nathan shifted to wing defence for Brooke Watt who had another consistent outing. It was a tense last spell and the home side managed to win the quarter 17-14, but the SKYCITY Mystics had done enough throughout the game to hold on and take the all-important victory.
Full time score: 59-55 SKYCITY Mystics
Visit HERE for all ANZ Premiership stats from the match.
The SKYCITY Mystics next ANZ Premiership game is against the Northern Stars on Wednesday 17 May, 7:40pm at ASB Kohimarama.
And don't forget, the SKYCITY Mystics next HOME game is at the North Shore Events Centre! They take on the Central Pulse on Wednesday 31 May at 7:40pm. Get your tickets HERE.