28 Jun 2018
MATCH REPORT – SKYCITY MYSTICS vs WAIKATO BOP MAGIC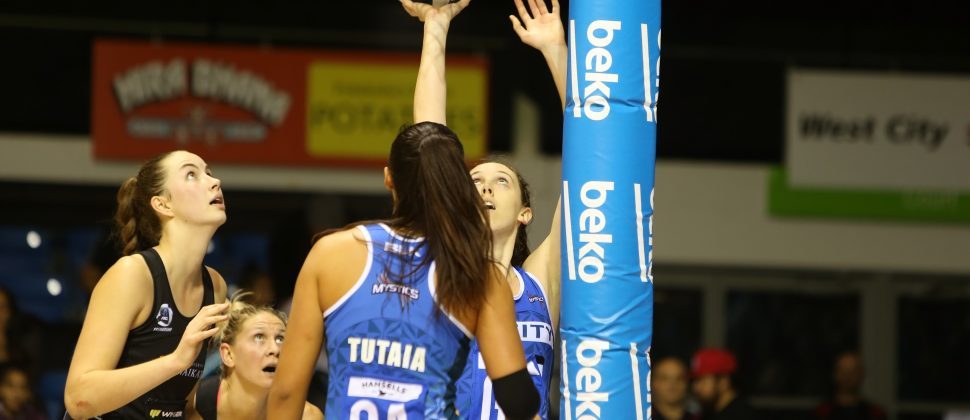 SKYCITY Mystics went to Hobbiton on Wednesday night, playing Waikato BOP Magic at a transformed Claudelands Arena in a game that ultimately saw Magic take the victory 67-52.
Coach Helene Wilson made just one change to last week's winning line-up, with Jamie Hume getting the nod at goal attack. The starting seven were: Mes (GS), Hume (GA), Toeava (WA), Kukutai (C), Harrison (WD), Sokolich-Beatson (GD) and Karaka (GK).
The first quarter started goal for goal, before the hosts began to edge ahead. It was a spectacular watch, with hard earned intercepts from both sides, notably SKYCITY Mystics captain Anna Harrison who has turned into a stunning WD this season. However, the Magic managed to increase their lead to 18-12 at the end of the quarter. 
The second quarter was exciting, with the SKYCITY Mystics coming within two goals more than once. However intense defensive pressure from the Magic defenders made it difficult for the SKYCITY Mystics to convert the ball, with Magic maintaining a six goal lead, 32-26 at half time.
Maria Folau came on for the start of the third quarter at goal attack, combining with her long time shooting partner Bailey Mes, with both players converting most of the ball that came their way, butthat wasn't enough. Magic pulled away, with a quick flow to their goal circle and Casey Kopua picking up any stray ball at the SKYCITY Mystics end to give Magic a 50-37 lead.
The final quarter saw Storm Purvis take the court for the first time this season in the GK bib, with Karaka moving to GD. There were some strong periods for the SKYCITY Mystics, gaining five points in a row, but a dominant Magic came back once again for a 15 goal win. 
In her post match interview, captain Anna Harrison said that the team did not play the game they wanted, and that they'll be working hard to turn things around for their next game. SKYCITY Mystics play next in Nelson on Sunday afternoon against Silverstream Tactix at 4.10pm.  
SKYCITY Mystic's next home game is on Sunday 8th July versus the Northern Stars at The Trusts Arena – make sure you're there for the second game in the Barfoot & Thompson Northern Challenge! Tickets are available at Ticketek.