18 Jul 2018
MATCH REPORT – SKYCITY MYSTICS vs WAIKATO BOP MAGIC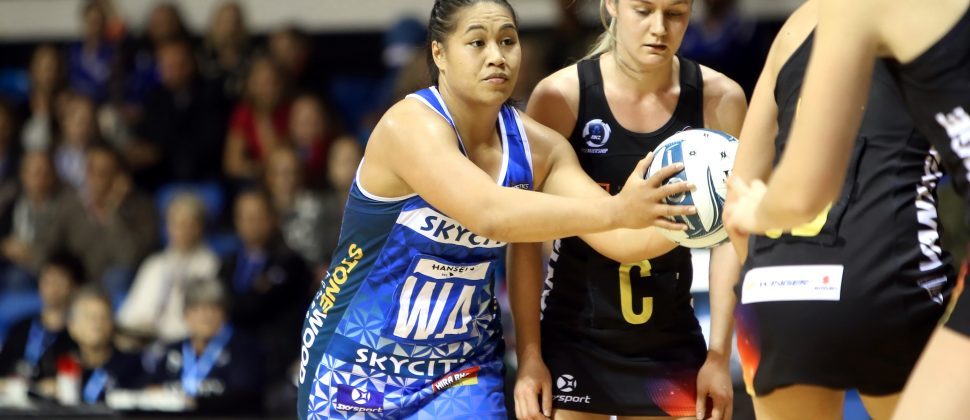 SKYCITY Mystics headed to Rotorua to play Waikato BOP Magic in round 11 of the ANZ Premiership for what proved to be an unpredictable game with a stunning result for SKYCITY Mystics.
The game saw defender Storm Purvis get her first start of the season at GK, after working hard to recover from injury over recent months. Purvis was joined in the defensive circle by Karaka at GD and Sokolich Beatson moved into WD. Nathan took the centre bib, and the regular line up of Mes (GS), Hume (GA) and Toeava (WA) rounded out the starting seven. 
It was a strong start by both sides in the first quarter with the teams going goal for goal, and SKYCITY Mystics maintaining a slender lead for much of the quarter, before Magic pulled ahead to take the quarter by three – leading 13-10.
Coach Helene Wilson made several changes at the break, bringing on Tera-Maria Amani at GS, moving Mes to GA, and putting Anna Harrison at GK. It took a few minutes to settle, then putting on an impressive display, scoring an incredible eight goals in a row to put the SKYCITY Mystics ahead halfway through the quarter, going to the halftime break with a 28-24 lead.
The third quarter saw Magic re-focus, but SKYCITY Mystics maintained their composure and their lead, going into the final quarter 42-35. Magic fought back hard in the final quarter, pegging back their deficit to just two before SKYCITY Mystics pulled away to a satisfying 53-46 win, moving up to fourth on the ladder as we draw closer to the end of the regular season.
There are two games in Auckland over the next seven days where fans can support SKYCITY Mystics – this Sunday marks the final game of the Barfoot & Thompson Northern Challenge against the Northern Stars and you won't want to miss the final home game of the season on Wednesday 25 July at The Trusts Arena.