2 Jul 2018
MATCH REPORT – SKYCITY MYSTICS vs SILVERMOON TACTIX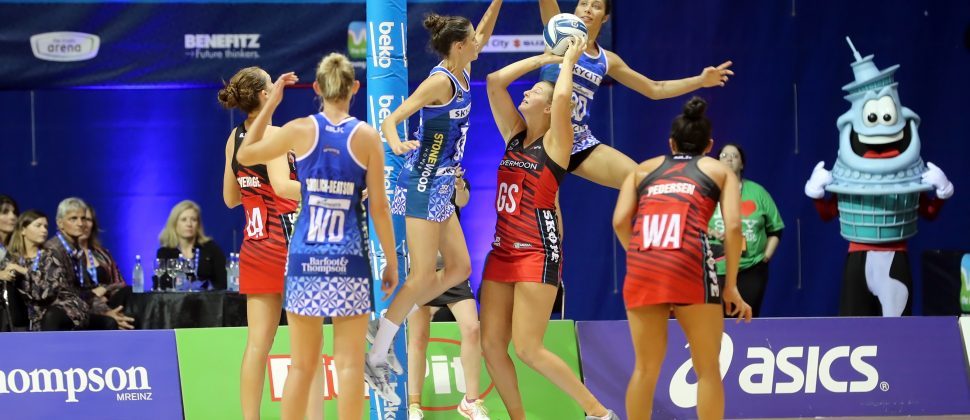 It was the third match up of the season for the SKYCITY Mystics and Silvermoon Tactix in Nelson on Sunday, with a win apiece and both teams keen to take the win. The line-up to start the game was Mes (GS), Hume (GA), Toeava (WA), Kukutai (C), Sokolich-Beatson (WD), Harrison (GD) and Karaka (GK).

The first quarter saw both teams chasing every ball, with neither team ever getting more than a handful of goals ahead in a tit for tat first quarter, with Tactix leading 13-11 at the first break.
The Tactix dominated the start of the second quarter with four unanswered goals before the SKYCITY Mystics were able to score. It was a strong defensive quarter for both teams, but SKYCITY Mystics struggled to get the ball into the goal circle. Samon Nathan came on at centre in the final few minutes of the quarter, but Tactix were able to go to the half time break with a 28-20 lead over the SKYCITY Mystics.
SKYCITY Mystics coach Helene Wilson made a number of changes for the third quarter in an attempt to stem the Tactix flow, switching Harrison and Sokolich-Beatson to WD and GD respectively and moving Mes to GA and introducing Tera-Maria Amani to the game at GS. A fall by Amani forced her off the court, with Hume returning to wear the GS bib. SKYCITY Mystics scored the final three goals of the quarter letting them win the quarter and reducing the Tactix lead 38-31.
The final quarter saw Hume stay at GS and Kukatai return half way through the quarter at C. It was an intense end to the game with both teams putting everything out on court, but it was not SKYCITY Mystics' day, with Tactix winning 50-40.
It was a disappointing game for the SKYCITY Mystics team and fans, but you can be sure that the team will do everything they can to win in week's time when they play the Northern Stars at The Trusts Arena in the second game of the Barfoot & Thompson Northern Challenge. Tickets are available at Ticketek – be there in blue to cheer on your team!