9 May 2018
MATCH REPORT – SKYCITY MYSTICS vs SILVERMOON TACTIX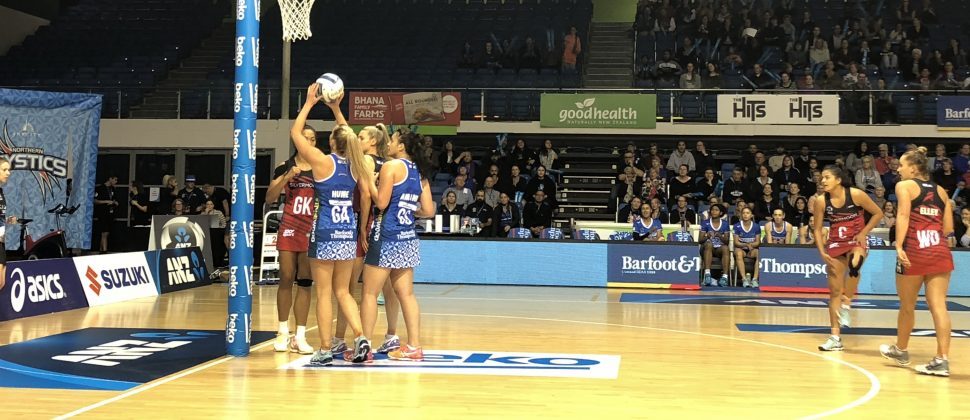 It was the first home game for the 2018 ANZ Premiership season for SKYCITY Mystics, facing Silvermoon Tactix at The Trusts Arena on Wednesday night. It was a close match up with Tactix eventually taking the game by three goals – 39-42.
The starting line up for SKYCITY Mystics saw a mix of youth and experience, with Amani and Hume in the goal circle, Toeava, Nathan and Karaka in the midcourt and Sokolich-Beatson and Harrison on defence. It was a strong first quarter, with the home side in the lead 12-8 after 15 minutes.
There were no changes at the start of the second period, but four and a half minutes in Sokolich-Beatson moved to the bench, with Karaka moving to GD and Kolose taking the WD bib. Sokolich-Beatson came back on a few minutes later, slotting in to WD, and Folau took the GA bib. The Tactix had the momentum in this quarter, bringing the scores to 19-all at the half-time break.
Mes came off the bench to start the third quarter at GS, and Kukutai on at centre midway through the quarter, the final change for the SKYCITY Mystics. It was an absolutely even quarter with both sides continuing to contest the ball strongly and the score again tied at the end of the quarter 31-all.
Both teams kept their line ups the same for the final quarter, with the SKYCITY Mystics defenders giving it their all. The tall shooters of the Tactix had the advantage, inching away for a three point win. In spite of the loss, it was a close game and there were great moments across the court as the team gets stuck into the season.
See all match stats HERE from the ANZ Premiership website.
Next up, SKYCITY Mystics return to The Trusts Arena on Sunday for the first game of the Barfoot & Thompson Northern Challenge, playing the Northern Stars at 4:15pm. It's Mother's Day, a great excuse for a day out!
Make sure you get your tickets HERE.