9 Jul 2018
MATCH REPORT – SKYCITY MYSTICS vs NORTHERN STARS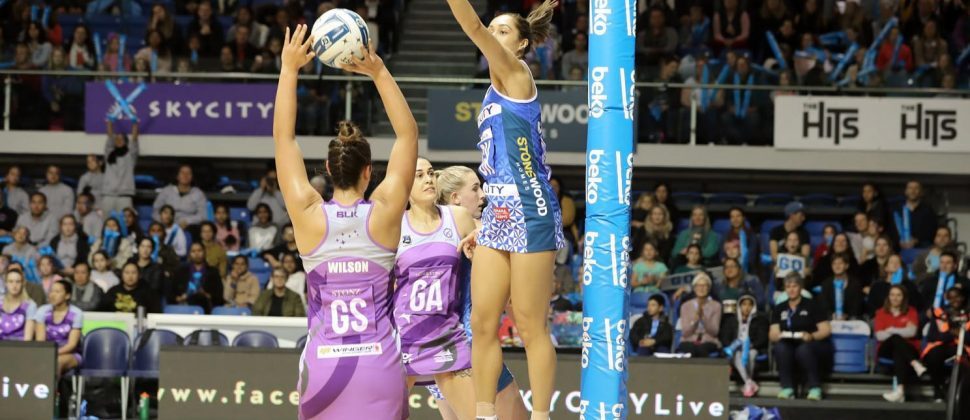 Sunday marked the tenth round of the ANZ Premiership and saw the SKYCITY Mystics take on Northern Stars at The Trusts Arena on Sunday afternoon in the second game of the Barfoot & Thompson Northern Challenge.
The SKYCITY Mystics starting seven was Mes (GS), Hume (GA), Toeava (WA), Nathan (C), Harrison (WD), Sokolich-Beatson (GD) and Karaka (GK).
This was an important game for both teams, which showed on court with a fast paced first quarter, that ended with the Northern Stars leading 15-12.
The second quarter saw Grace Kukutai come on at centre and a clinical Northern Stars extend their lead to six. A fall by their WD Fa'amu Ioane forced changes, just as the SKYCITY Mystics started to pulled off a series of impressive intercepts, allowing the home side to go into half time just two behind (28-26 to the Northern Stars).
The excitement and physicality didn't wane in the second half, with the SKYCITY Mystics finally drawing even with the Stars five minutes into the third quarter. They were not able to hold on, with strong Stars defence causing the SKYCITY Mystics to be unable to get the ball to their shooting circle, and the Stars stretching their lead to 45-39 at three quarter time. The SKYCITY Mystics looked strong and focused going into the final period, but they were unable to catch the Stars who eventually won the game 58-55.
Fans were in full voice at a packed arena this afternoon showing that they love the challenge between the two northern-most teams of the ANZ Premiership. With both sides having a win apiece, their final round robin game match-up at Bruce Pulman Park on 22 July will decide who will be presented the Barfoot & Thompson Northern Challenge trophy. There was a good turnout of Stars supporters at The Trusts Arena today, so make sure you head south for Super Sunday to make sure there's a strong contingent in blue!
Our final home game is on Wednesday 25 July versus Waikato BOP Magic – get your tickets at Ticketek.