13 May 2018
MATCH REPORT – SKYCITY MYSTICS vs NORTHERN STARS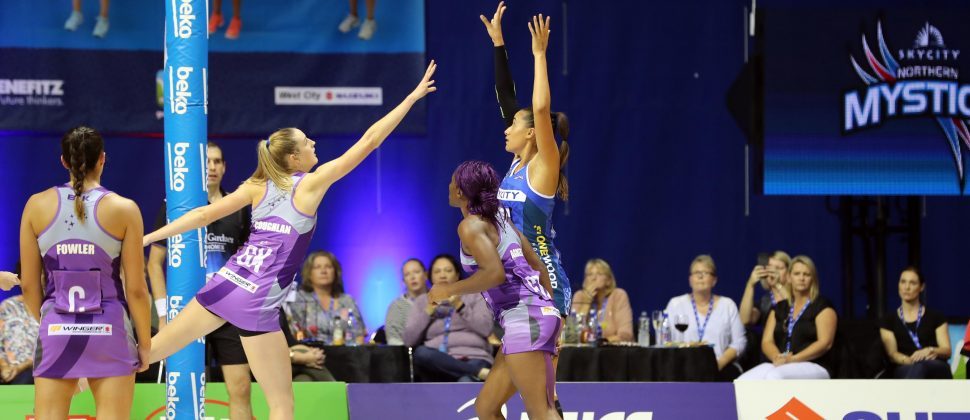 SKYCITY Mystics marked Mother's Day with their first win of the 2018 ANZ Premiership, beating cross-town rivals the Northern Stars 60-54. The game was also the first in the brand new Barfoot & Thompson Northern Challenge which is a best of three between the two northernmost teams in the ANZ Premiership.
There was just one change to the starting line-up for SKYCITY Mystics from Wednesday's starting seven, with Mes taking the GS bib to combine with Hume in the goal circle, Toeava, Nathan, Karaka in the midcourt and Sokolich-Beatson and Harrison teaming up on defence. Northern Stars drew first blood, going to an early 3-nil lead, but SKYCITY Mystics netted the next five goals, going into the first quarter break with a 12-10 lead.
Bringing on Folau at GA was Coach Helene Wilson's only change for the second quarter. It was a strong 15 minutes in the goal circle, with Folau shooting 8/8 in the quarter, and Mes shooting 10 goals from 13. At the half-time break SKYCITY Mystics had increased their lead to four, leading 30-26.
It was tit for tat in the third quarter with the Northern Stars eventually closing the gap, scoring 14 points to the Mystics 12. Mid-way through the quarter Kukutai come on to replace Karaka at WD for the remainder of the game.
As the game wound down, MVP Folau headed back to bench for the final few minutes of the game and Hume came back on to close the game. The final few minutes were not without drama with Stars midcourter Ioane sent off, and SKYCITY Mystics capitalising on their opponents being a player down to increase their lead to six before the final buzzer.
See all match stats HERE from the ANZ Premiership website.
The game followed a drawn BEKO Netball League game between the Northern Marvels and Northern Comets.
After three games in eight days, SKYCITY Mystics have a lighter week, focusing on recovery and preparation for their next ANZ Premiership match-up against Southern Steel in Invercargill at 7:40pm on Monday 21 May. The next home game is against the Pulse on 3 June. Make sure you get your tickets HERE.