2 Aug 2018
MATCH REPORT – SKYCITY MYSTICS vs CENTRAL PULSE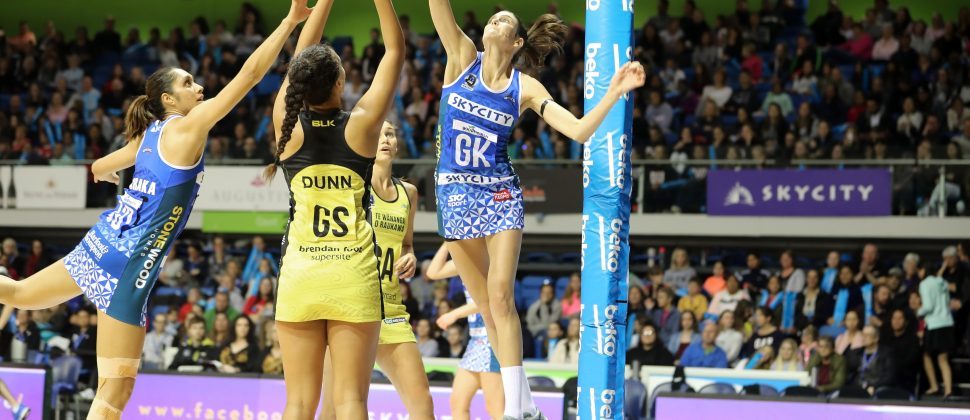 Wednesday night marked the conclusion of the SKYCITY Mystics 2018 ANZ Premiership season, following an athletic match up against competition leaders Te Wananga O Aotearoa Pulse, who won the game 55-48.
The SKYCITY Mystics starting line up was Mes (GS), Folau (GA), Toeava (WA), Nathan (C), Sokolich-Beatson (WD), Karaka (GD) and Harrison (GK). While the game started with the teams going goal for goal, a run at the end of the first quarter allowed the Pulse to get a five goal buffer, to lead 18-13.
 Coach Helene Wilson used her teams versatility, switching the shooters, shuffling the defensive trio and bringing on Kukutai in the third quarter, in an attempt to half the Pulse flow. There was some beautiful netball from the SKYCITY Mystics, however the game belonged to the Pulse, who led at each quarter break and ultimately took the win. 
A special mention must go to the introduction of a brand new move from captain Anna Harrison and Phoenix Karaka to mark Harrison's final netball game. The commentators suggested this be called the 'Harrison Hop', while Harrison herself suggested it be named after Karaka, who gave the necessary boost. 

With a final placing of fourth, it was not the season conclusion the SKYCITY Mystics team and supporters had hoped and trained for, but it has certainly been an exciting season with plenty of great netball and lots of signs of promise for the future.
A huge thank you to the team and management, all our sponsors and the many supporters who get behind the SKYCITY Mystics every year. Bring on 2019!