1 Jun 2017
MATCH REPORT – SKYCITY MYSTICS vs CENTRAL PULSE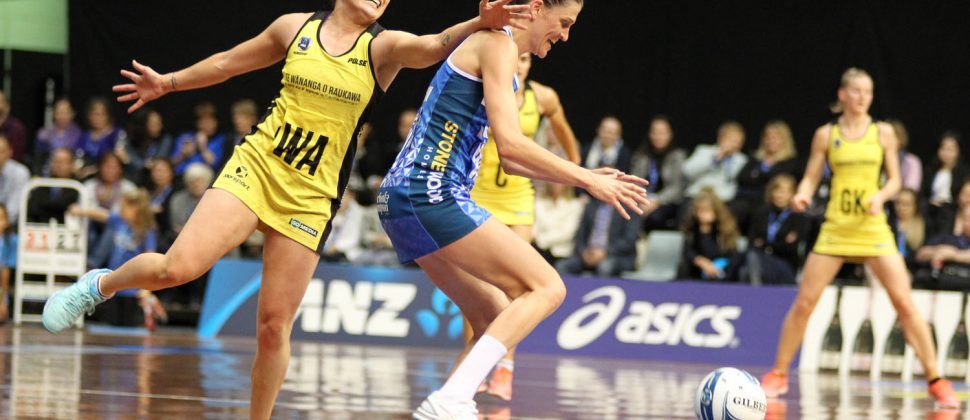 The SKYCITY Mystics recorded their most important win of the ANZ Premiership season last night, defeating the Central Pulse 64-53 at a sold-out North Shore Events Centre.
Everything was on the line for both sides, as a spot in the playoffs loom. With the Pulse winning the two previous encounters, the SKYCITY Mystics were determined to win one back in front of the vocal North Shore Events Centre crowd.
There was a lot of early defensive pressure outside the shooting circle from both teams. The shooting from Maria Tutaia and Bailey Mes, as well as Cathrine Tuivaiti and Tiana Metuarau was flawless in the opening spell, with just two missed shots, one by each team in the first 15 minutes. Scores were locked at 17-17 at quarter time.
SKYCITY Mystics head coach Helene Wilson and her assistant Jenny-May Clarkson started with Anna Harrison at wing defence and Storm Purvis and Michaela Sokolich-Beatson in the circle. It was a masterstroke move, with all three defenders causing havoc for their opponents. Harrison's long limbs outside the circle allowed her to pick up three intercepts and four deflections throughout the game.
Purvis and Tuivaiti had a great tussle with each other for the entire match, with Purvis picking up a couple of impressive intercepts. The SKYCITY Mystics pulled away in the second quarter and they held onto a 34-29 lead at half time.
There was some seriously slick play down the SKYCITY Mystics attacking end, with Samon Nathan and Elisapeta Toeava linking in brilliantly with Mes and Tutaia. At one stage, Toeava showed off her remarkable balancing skills, virtually doing the splits to ensure she didn't go offside. Home town girl and MVP, Nathan showed some incredible vision as she fed her shooters.
The third quarter proved to be the difference in the match, with the home side winning the spell 19-12. Tutaia was nailing long range bombs from everywhere, including one from the edge of the shooting circle. At the other end, Tuivaiti was on fire, she shot at 100% for the match (36/36).
The SKYCITY Mystics led by 12 going into the final quarter, however, the Central Pulse refused to give up and put the pressure on in the early stages of the final 15 minutes. However, the home side held their nerve and treated their fans to a 64-53 win.
Full time score: 64-53 SKYCITY Mystics
SKYCITY Mystics shooting stats: Bailey Mes 34/38 (89%), Maria Tutaia 30/37 (81%)
MVP: Samon Nathan
Visit HERE for all ANZ Premiership stats from the match.
Super Sunday is our next home game at The Trusts Arena on Sunday 11 June – 1 ticket, 3 games, 6 teams.
The SKYCITY Mystics take on the Northern Stars at 4pm, the Magic vs Steel at 2pm and Pulse vs Tactix 6pm. Tickets are selling fast, so make sure you get yours now HERE!