28 May 2018
MATCH REPORT – SKYCITY MYSTICS v SILVERMOON TACTIX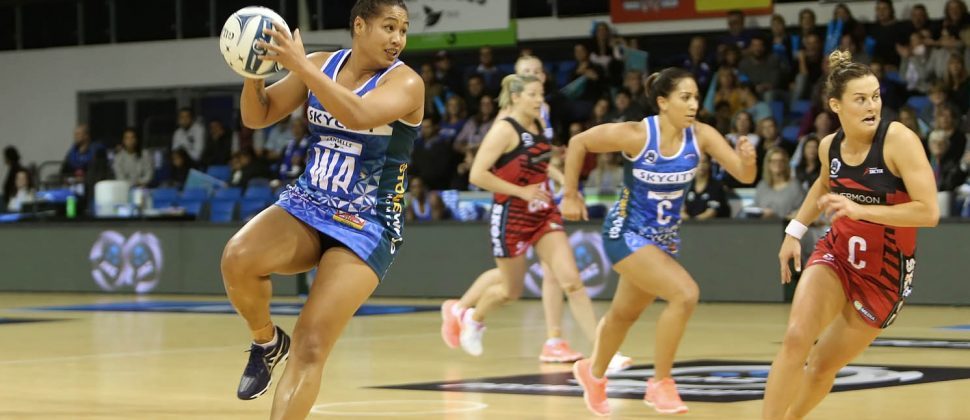 It was a confident and cohesive SKYCITY Mystics that took the court against Silvermoon Tactix in chilly Christchurch on Monday night, starting with a rearranged defensive line-up (Harrison at GK, Karaka at GD and Sokolich-Beatson at WD) and Kututai getting another start in the centre bib. Coach Helene Wilson kept her attacking line-up of Mes (GS), Hume (GA) and Toeava (WA).
The first quarter saw both teams score 13 points in a very even start to the game, with both coaches retaining their starting seven into the second period of play. This was a dominant quarter for the shooting duo of Mes and Hume, fed by an often airborne Toeava,  going into the half time break with 30 goals to 25 to SKYCITY Mystics.
The defensive pairing of Karaka and Harrison swapped bibs heading into the third quarter, and Nathan came on at centre, after a solid performance by Kukutai. The changes weren't enough to help SKYCITY Mystics extend their lead, but the northern team maintained their five goal advantage at the end of the quarter, leading 41-36.
The final quarter saw another bib swap in the SKYCITY Mystics side with Mes moving to GA and Hume GS. The Tactix caught up to the SKYCITY Mystics after deploying the Harrison Hoist, and halfway through the final quarter it looked like the game could belong to either side. But it was a patient and determined SKYCITY Mystics side that drew ahead once more, taking out the game 53-49.
Hume shot 24/34 (71%) and Mes delivered 29/36 (81%) and Toeava was named MVP for her quality feeding game. Get all the game stats here.
SKYCITY Mystics take on premiership leaders the Central Pulse at The Trusts Arena on Sunday at 6:10pm. Get your tickets to cheer your home team on!