21 Jun 2018
MATCH REPORT – SKYCITY MYSTICS vs SOUTHERN STEEL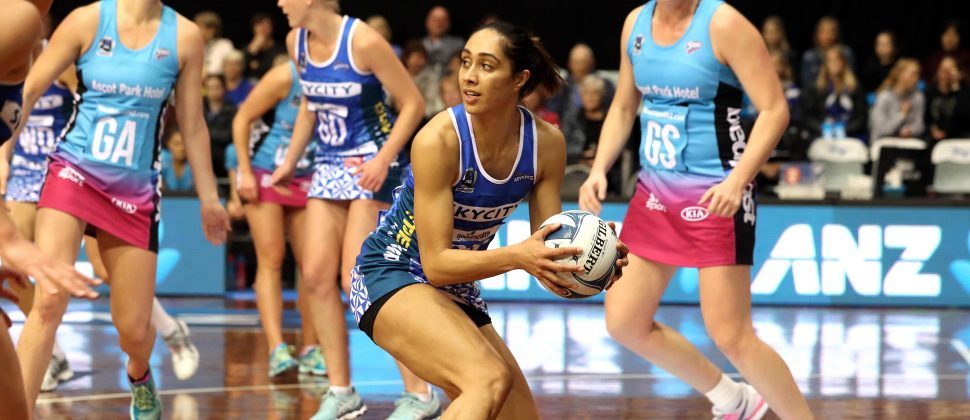 SKYCITY Mystics crossed Auckland Harbour Bridge for their annual home game at North Shore Events Centre on a cold rainy Wednesday night, but the chill outside wasn't apparent on the court with both teams fired up for the game. While the 2017 champions Ascot Park Southern Steel had won the two previous match ups between the teams, tonight's game belonged to SKYCITY Mystics who took away a convincing 62-57 win.
There was just one change to last week's starting line-up, with Grace Kukutai taking the centre bib. The starting seven was Mes (GS), Folau (GA), Toeava (WA), Kukutai (C), Harrison (WD), Sokolich-Beatson (GD) and Karaka (GK). The team remained unchanged throughout the game.
The first two quarters were very even, with Southern Steel coming out ahead by one at the first break (13-14) and SKYCITY Mystics gaining the lead moments before the half time whistle with a quick goal off the centre pass by Bailey Mes, with the score 29-28 at the break.
The third quarter was the one where the connections clicked and SKYCITY Mystics dominated the game, with seven straight goals and a flow across the court that was beautiful to watch. The home team led 48-41 going into the final quarter.
The final quarter started with a comeback from the southern visitors, but SKYCITY Mystics kept their composure for the win to the delight of the home crowd. The outstanding Peta Toeava was named MVP, and shooting stats were 33/37 (89%) for Bailey Mes and 29/35 (83%) for Maria Folau. See all the stats here.
Not only have SKYCITY Mystics won two games in a row, they've also beaten the two top ranked teams in the competition, which means the next game against Waikato BOP Magic is especially important as the team seeks to move up the ladder – fans are encourageD to consider the trip to Hamilton next Wednesday to make sure there's plenty of blue in the crowd.
The next home game is on Sunday 8 July at The Trusts Arena, when SKYCITY Mystics play Northern Stars in the second game of the Barfoot & Thompson Northern Challenge. Get your tickets here.