16 Jul 2021
LOSS AGAINST THE STEEL WAS A WAKE-UP CALL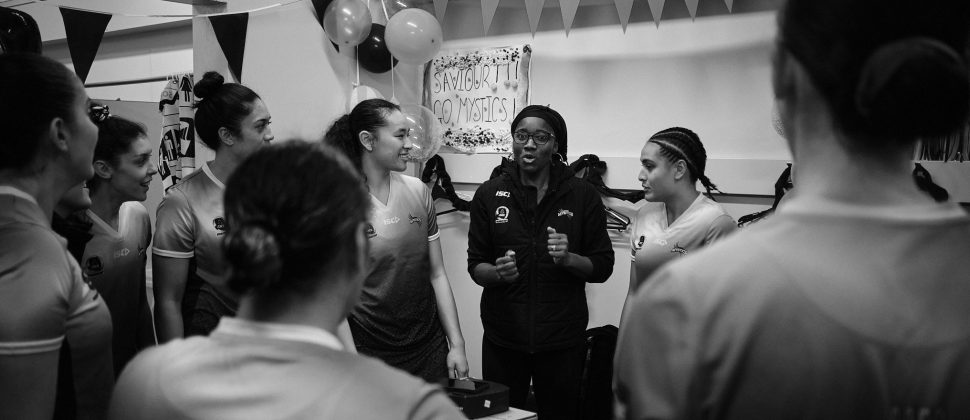 Ama Agbeze, with an impressive collection of netball titles in her kit bag, assesses what went wrong last week for the Mystics and how they can return to their winning ways.
MBE, Commonwealth Games gold medal, Fast5 World Series title, ANZ Championship with the Melbourne Vixens … will the next achievement on that list be an ANZ Premiership title with the Northern Mystics for netball's nomad Ama Agbeze?
The former England captain has definitely collected an impressive list of titles in her lengthy career, but it's a different role she's filling this year as an injury replacement for the Mystics.
"I suppose I bring a little bit of leadership in behind the scenes discussions with Mickey (Michaela Sokolich-Beatson) and Sulu (Fitzpatrick) as captains. I also look to contribute to the team's standards – helping everyone to focus on what it's going to take to win and what we should demand of each other."
While it's more of an off-court role the qualified lawyer is fulfilling for the Mystics, Agbeze says she approaches it just like a captaincy.
"I've always thought about how what I say impacts other people and how it comes across, and I look to adjust things accordingly. I feel I'm doing just the same in this role."
The 100-test veteran certainly knows a thing or two about this week's opposition the Central Pulse after playing for the Wellington-based team in 2010, 2014 and 2015.
"When they're playing at home it's 100% yellow, so you don't want the crowd to play into it. We'll simply need to start well," says the lanky defender.
"The Pulse will be disappointed with how they've performed this season. I think they're a lot better team than some of the results they've had. We certainly can't under-estimate them."
The Mystics can secure the 2021 Minor Premiership if they defeat the Pulse on Sunday which they have already done twice this season. They're currently four points clear at the top of the table, and a win will ensure they qualify for the Grand Final at Spark Arena on 8 August. 
We asked Agbeze what went wrong in last week's lost to the Steel.
"We were all quite flat and it's so frustrating when everyone is flat at the same time. We never looked like it was a good day for us."
"While it was disappointing, it came at the right time to give us a kick up the backside and reassess what we're doing. We'll definitely take it as a wake-up call."
So what does her expert netball brain think the team need to do to continue their winning ways?
"More of us need to take responsibility on the court and step up. In a lot of games we've relied on certain players.
"They (opposition teams) will analyse and set up game plans based on what you put out there. So if we do the same things and rely on the same players they're going to have the perfect game plan when it matters."
As we get to the business end of the ANZ Premiership, Agbeze admits she's starting to think about what's next – maybe coaching, commentating or using her finance and legal qualifications.
"I don't know if I'm going (to retire) but it would certainly be a nice way to finish (with a title at the Mystics). I really don't know what I want to do. There are so many options maybe one will discover me."