9 Mar 2017
HARRISON AND TUTAIA ANNOUNCED AS SKYCITY MYSTICS CO-CAPTAINS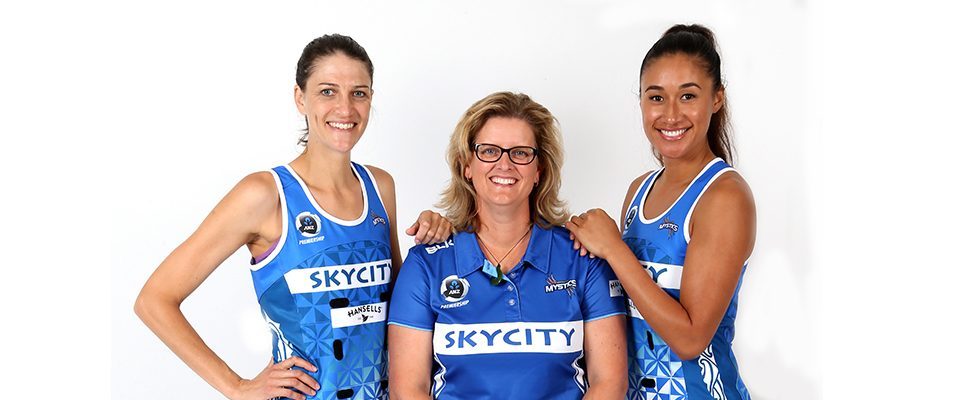 The SKYCITY Mystics are pleased to announce Anna Harrison and Maria Tutaia as co-captains of the SKYCITY Mystics for the upcoming ANZ Premiership.
The two vastly experienced netballers will share the leadership reigns and guide an exciting, new-look SKYCITY Mystics team into the 2017 campaign.
SKYCITY Mystics head coach Helene Wilson said Harrison and Tutaia complement each other's strengths as co-captains and together they make a strong leadership team.
"Maria connects players as people and Anna's professionalism around high performance is highly valued. Most importantly they are passionate about playing for the SKYCITY Mystics and leading the Northern Zone netball community.
"With their commitment to our zone and their openness to grow in their co-captain's roles, I am excited about where they will lead their team to in 2017."
Harrison has been playing for the SKYCITY Mystics since 2011, and the Auckland region since 2006. Harrison said it's an honour to captain a team that has always had such flare and exciting qualities.
"We all lead in different ways and that is why Maria and I sharing the role is great as we both have different strengths that we can bring to the team and the ANZ Premiership.
"The season is long, so being able to share the role can only work in our favour. We have a super exciting, young SKYCITY Mystics team, bar a couple of us, and we have new management which makes heading into the season even more exciting."
Tutaia can't wait to be able to lead the SKYCITY Mystics with her long-standing team mate.
"It's a great opportunity for myself and Anna to lead this team the way that we know how. We both bring different leadership qualities to the table, and being able to marry them together to achieve what we want to achieve is something that is really exciting and I'm really looking forward to it."
The SKYCITY Mystics kick off their ANZ Premiership campaign against the Central Pulse on Sunday 26 March at 6pm in Hamilton.