29 Mar 2022
Falkner rediscovers her shot – in the unlikeliest place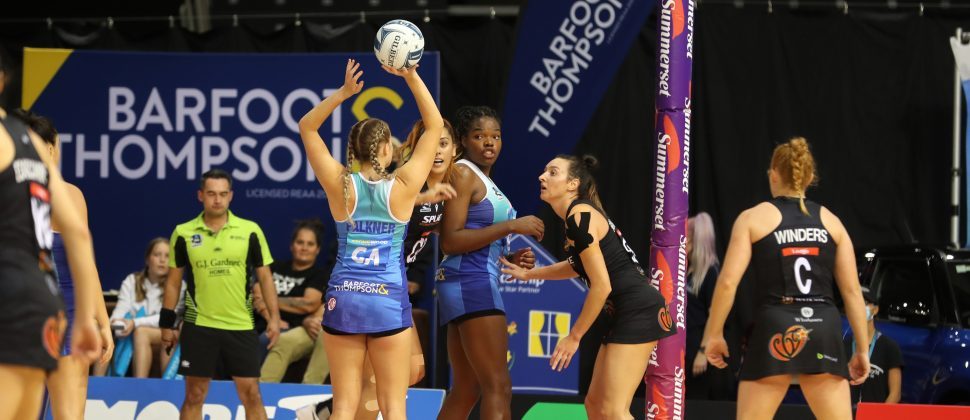 Original Author: Suzanne McFadden
Plagued by injury and a wobble in confidence, shooter Monica Falkner has a found an unexpected home with the Mystics and a new outlook on netball – hoping she'll get another shot at the Silver Ferns.
The Mystics were the last team Monica Falkner ever wanted to play for.
And Helene Wilson, the Mystics head coach, will never let Falkner live that declaration down.
The Silver Ferns shooter has had a hellish two years – having her knee reconstructed, only to damage it again in her first ANZ Premiership game for the Stars in 2021. She wanted to go home to the Waikato this season and play for her original team, the Magic.
"But things didn't work out," she says. Or so she thought.
"The Mystics were where I fell. And it's been a really good fall."
Although she'd never have pictured it, Falkner has quickly become an important cog in the defending champions' attack. And she's regaining the confidence she'd lost on court – especially under the hoop.
"I'd totally forgotten how to shoot," admits Falkner, renowned for her sure shot from any range.
The hours spent with the Mystics' assistant coach, Rob Wright, deconstructing her technique and rebuilding her self-belief are now paying off. That's crucial in a year where Falkner hopes to get another shot in the Silver Ferns, especially at the Birmingham Commonwealth Games.
First, let's go back to that original statement, and how Wilson heard about it – directly from Falkner's mum.
Back when Falkner played for the Magic, having made her debut there in 2017, the young shooter had heard the Mystics weren't so welcoming to "outsiders" coming in.
"Magic were playing Mystics up in Auckland, and my mum was sitting with [Mystics midcourter] Tayla Earle's mum," Falkner recalls. "Helene was chatting to them, then asked: 'Would Monica ever come and play for the Mystics?' And Mum said: 'She'll never go to the Mystics – they're the last team she'd ever play for.'
"Helene vividly remembers that and now reminds me quite often. It's our inside joke."
Falkner says she's been made to feel more than welcome in the Mystics whānau. "I love the girls. And it's great working with Rob – he's brutally honest, which I also love," she says. "It's definitely been a good change."
About to turn 26, Falkner needed to make some big decisions ahead of this season.
"The next two years are pretty key for netballers, and I felt there was going to be a lot of player movement. It's not just franchises that players were thinking about; there are higher honours," she says.
"Staying at the Stars was probably not the best place for me in terms of getting game time," she says, knowing she'd be battling for court time along with Maia Wilson, Jamie Hume and Amorangi Malesala.
At the Mystics, Falkner (who can play both shooting roles) shares the circle with Grace Nweke and Filda Vui, who both went to England with the Silver Ferns in January.
She's finding a new rhythm, whether she's paired with shooting powerhouse Nweke or the more fluid Vui.
"The main goal for Filly and I is to keep shooting as goal attacks, so the Mystics aren't a one-shooter team. Grace will take the majority of the load. But every opportunity we get to shoot, we'll take it," Falkner says.
"Grace loves it too. Every time we get the ball within our range, she's like 'I've got your rebound' – which is good for both of our games.
"I told Helene when I came to the Mystics, 'I'm not there to be a third feeder, that doesn't help my game at all'. She was like '100 percent, we want three shooters who can all shoot'. I like that plan."
Of course, things don't always go 100 percent to plan. In the Mystics' latest game, a 62-61 thriller win over the Pulse, Nweke shot 55 of their goals (in the last minute of the game, with the scores tied, Falkner got the ball near the hoop but chose to pass to Nweke, who sunk the clincher).
Rebuilding confidence under pressure takes time. And Falkner has had a tough time of it.
Just as her netball career was taking off – as a double world champion from the 2017 World Youth Cup and the Fast5 world series, and selected for the Silver Ferns squad – Falkner ruptured her ACL, playing for the All Stars against Fiji in 2019.
It was 15 months before she returned to the court, to make her Silver Ferns debut against England at the end of 2020.
She made a brief appearance in the Ferns' Constellation Cup victory early the next year, then in her first game for the Stars, an "unlucky" jump over the cardboard hoardings, trying to keep the ball in play, did more damage to the same left knee.
"I stretched my graft and damaged some cartilage," Falkner says. "It wasn't nice. Through my whole rehab on my knee, it never hurt. But this was really hurting, so I knew 100 percent something was wrong."
The worst-case scenario was that she'd need the reconstruction – and rehabilitation – all over again. So she took a risk and waited to see if it would heal itself.
"I wasn't allowed to run, and I had to go back to step one of rehab, but this time it progressed much faster," Falkner recalls. She's "gutted" she only got to play a few games for the Stars – and then  left. "But they understand why," she says.
Even before that second injury, Falkner found herself in a shooting crisis.
"Even playing club I had zero confidence. I just couldn't shoot a goal. I'd go to put the ball up and my hands would be shaking. I couldn't get the height; I couldn't get the accuracy; I couldn't even push the ball out of my hand. Everything else on court was just fine – until I went to shoot," she says.
When she arrived at the Mystics, she shared her predicament with Wright, who leads the attacking end of the court.
"Every Monday we had shooting sessions, we worked on it through the preseason and it got better and better," she says. "He noticed uncharacteristic things I was doing that I couldn't feel, which helped massively.
"So I was a little nervous coming into the first [premiership] game, because it was a long time feeling like that."  Paired with Vui in the circle (while Nweke recovered from Covid), Falkner shot with 100 percent accuracy.
Her statistics have been up and down since then, but Falkner still feels better under the hoop.
"Rob has also taught me not to be so hard on myself – because I'm massively hard on myself all the time. I get too disappointed, too caught up on things I'm not doing well, which affects me even more," she says.
"So with the belief from him and the back-up from the Mystics girls… it's slowly falling back into place."
Although she wants the chance to wear the black dress again, she's learning to ease her expectations.
"Coming back from my knee surgery then going straight into the Ferns environment and the Constellation Cup, I was putting a lot of unnecessary pressure on myself to be world class right then and there. I totally forgot I hadn't played netball week-in, week-out for a whole year-and-a-half," she says.
"I came off that quite disappointed with how I went when I got my opportunities, and I thought 'Oh my god, I'm never going to get them again.'
"But I'm releasing the pressure off myself, so whatever happens, happens. I won't be so disappointed and so heartbroken when things don't happen."
After commuting between Hamilton and the Stars' base in Papakura last season, Falkner has made the move to Auckland.
Any weekends off, she's returned home to her partner and their golden labrador, Beau.
"I miss home and I miss my puppy. My partner is a farrier, so Beau goes to work with him," she says.
She's just joined a golf club and tries to get to the driving range if she has a couple of hours free.
While Falkner wants to get her golf handicap this year, she also wants to play consistent netball: "I haven't done that in a while.
"I want to give myself the best chance to make the Commonwealth Games. You've got to do the groundwork to get a look in."
ANZP IN A NUTSHELL: 
No team has been left unscathed after the first three rounds of the ANZ Premiership, but the Mystics lead the table on three wins from four – having just held out an exciting Pulse side by one goal in the match-up of the season so far.
The biggest surprise has been last year's runners-up, the Tactix, taking their time to get on the scoreboard. They finally notched up their first win from three starts last night, with Karin Burger's outstanding defence spearheading an eight-goal run in the third quarter to overcome the Magic, 61-54.
But look out for the Magic's shooting combo of Bailey Mes and Ameliaranne Ekenasio to do some damage later in the season, as Ekenasio gets more minutes on court in her measured return from having her second baby only five months ago.
It was also good to see another mum, Kayla Cullen, returning to the court for the Stars for the first time since 2019, but her netball comeback wasn't enough to rouse them to victory, going down to the up-and-down Steel, 71-62, in Invercargill. English sharpshooter George Fisher's 51 from 52 attempts anchoring the home side's second win this season.