20 Aug 2021
ENGINE ROOM RETURN FOR NORTHERN MYSTICS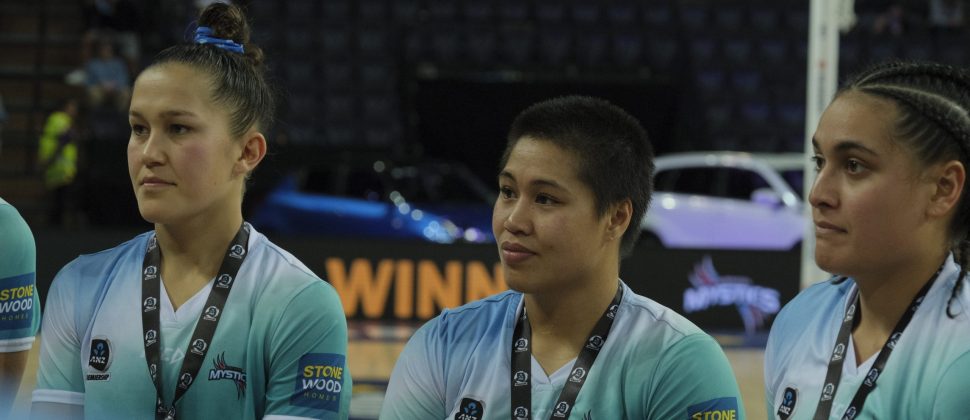 Flair, consistency and reliability have been rewarded for the Northern Mystics midcourt quartet set to wear the blue strip again in the 2022 ANZ Premiership.
Led by the skill-set of Peta Toeava, the Mystics midcourt remains stable with the return of the 'engine room duo' Tayla Earle and Fa'amu Ioane while Claire O'Brien is added to the mix for her first full season with the Northern Mystics.
Head coach Helene Wilson said she was keen to reward and retain as many players as possible from the ANZ Premiership winning team of 2021.
"Winning the Premiership is the beginning of the legacy we want to build at the Northern Mystics so young girls in our Zone aspire to play for our team."
Wilson believes setting fitness standards aligned with the Silver Ferns programme was key to the team's success and said nothing would change next year.
"Players want to know they are in a team of like-minded individuals who aspire to be their very best, and our recruitment strategy was to retain as many players as possible while continuing to build our club."
Toeava is set to solidify her name amongst some of the great players to have served the Mystics, with Wilson pointing to the wing attack's ability to deliver under pressure this season as a real strength of her game.
"Our game style continues to evolve with the flair of Toeava.  Her growth this year was huge – she learnt how to harness her strength and deliver under pressure, and we're excited that she can continue to lead her end of the court in 2022."
Both Earle and Ioane were reliable through the middle and the duo provided strong links from the defensive end onto attack.
"Tayla has grown into a solid centre for us who is reliable in her feeding and nuggety in her defence," Wilson said.  "She is the engine of our team and is dedicated to improving her game.  I'm looking forward to watching her game grow."
Wilson said Ioane was rewarded for the consistency in her game in the wing defence role since moving to the Mystics this year, and she hoped to see her step up again in both the defence and centre roles.
"The strength of the connection between the midcourt and defence is that every player will need to be pushing each other to put their best foot forward as we aim to grow our game plan to the next level."
O'Brien, who helped the Northern Marvels to a maiden National Netball League title and got court time during the Mystics' Premiership win in the Grand Final, had impressed with her leadership with the Marvels and her ability to take the court for the Mystics in pressured moments.
"We love to reward hard work and committed athletes, and Claire epitomises these qualities.  We are very excited about welcoming such a great person to our team full time," Wilson said.
Mystics Mid Court
Tayla Earle
Fa'amu Ioane
Claire O'Brien
Elisapeta Toeava