27 Aug 2015
CULLEN CENTRAL TO MYSTICS PLANS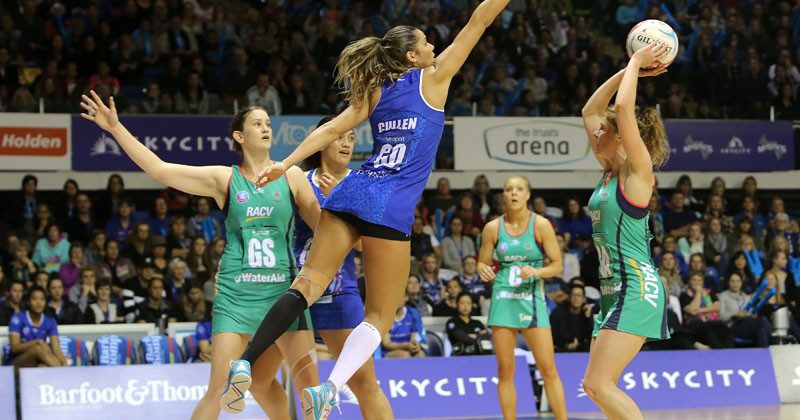 After playing a major role for the Silver Ferns in their Netball World Cup campaign, Kayla Cullen has re-signed with the SKYCITY Mystics for 2016.
Cullen, who featured as a defender for her franchise this year, was the starting Wing Defence for her country in the biggest games at the World Cup. She'll be in the mid-court for the SKYCITY Mystics next season also.
"Kayla has shown huge growth since she came into our side as a schoolgirl five years ago," says the SKYCITY Mystics coach Debbie Fuller. "Next season she'll be moving into the mid-court, where her vision on attack and her presence while on the run on defence are key strengths."
Fuller described Cullen's performances at the World Cup as "daring, tough and brave". The 23-year-old had shown similar qualities earlier, when coming back from two ACL knee reconstructions.
Cullen joins a mid-court headed by England international Serena Guthrie (25) and Nadia Loveday (21), while defensive duties will be in the hands of the likes of Anna Harrison (32), Sulu Tone-Fitzpatrick (23) and Temalisi Fakahokotau (20), who have all played for their country.
Fuller acknowledges that a challenge now for Cullen, like the rest of her squad, is delivering "elite consistency" throughout the ANZ Championship. At the World Cup, Cullen was under pressure from the start of the tournament and responded.
"I knew I had to nail my performance from game one or I would have most probably been riding the bench", she says. "Like any player, I can't stand the bench!"
She says the tournament gave her confidence and she's added some skills when it comes to delivering game after game.
"Recovery was so important," she says. "You need that rest – and I lived in the leg pumps."
So she should be set to hit the ground running next season.
"I think 2016 is my year to really step up."
The SKYCITY Mystics have now announced ten of their squad of 12 for next season.
2016 SKYCITY Mystics squad announced to date:
· Kayla Cullen
· Temalisi Fakahokotau
· Holly Fowler
· Serena Guthrie (import player)
· Anna Harrison
· Cathrine Latu
· Nadia Loveday
· Michaela Sokolich-Beatson
· Sulu Tone-Fitzpatrick
· Maria Tutaia