17 Mar 2016
ANZ CHAMPIONSHIP PRE-SEASON SHOOTOUT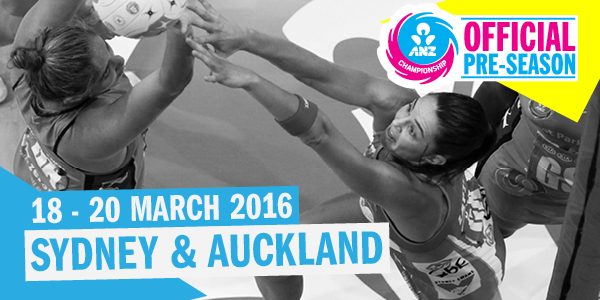 The ANZ Championship Pre-Season Shootout will return in 2016 with two three-day events to be held simultaneously at The Trusts Arena, Auckland and Sydney Olympic Park, Sydney, from 18-20 March 2016.
The Sunday Sessions of the Pre-Season Shootout will be shown LIVE and back-to-back on Fox Sports Australia 2 (from 4.00pm AEDT) and SKY Sport NZ 1 (from 2.30pm NZT).
WHEN: 18-20 March 2016
WHERE: Netball Central, Sydney Olympic Park and The Trusts Arena, Auckland
TICKETS: Tickets are on sale for the Auckland-based tournament via eventfinda and the Sydney-based tournament via Ticketek.
FOLLOW: Scores will be updated on the ANZ Championship Facebook Page and @ANZChamps Twitter.
FIXTURE: 
AUCKLAND

Time (NZT)

Schedule

SESSION 1: FRIDAY 18/3/2016

(60 minute matches)

5.30pm

WBOP Magic v Adelaide Thunderbirds

7.00pm

Northern Mystics v Queensland Firebirds

BYE

Southern Steel

SESSION 2: SATURDAY 19/3/2016

(30 minute matches)

9.00am

Northern Mystics v Southern Steel

10.00am

WBOP Magic v Queensland Firebirds

11.00am

Southern Steel v Adelaide Thunderbirds

12.00pm

WBOP Magic v Northern Mystics

SESSION 3: SATURDAY 19/3/2016

(30 minute matches)

2.00pm

Adelaide Thunderbirds v Queensland Firebirds

3.00pm

Southern Steel v Adelaide Thunderbirds

4.00pm

Queensland Firebirds v Northern Mystics

5.00pm

Southern Steel v WBOP Magic

(60 minute game)

SESSION 4: SUNDAY 20/3/2016

(20 minute matches) – broadcast live on Fox Sports and SKY Sport NZ

2.35pm

Northern Mystics v Southern Steel

3.05pm

WBOP Magic v Queensland Firebirds

3.35pm

Northern Mystics v Adelaide Thunderbirds

4.05pm

Southern Steel v WBOP Magic

4.35pm

Queensland Firebirds v Adelaide Thunderbirds

5.15pm

Shootout Final