11 Dec 2015
ANZ CHAMPIONSHIP PRE-SEASON EVENT RETURNS IN 2016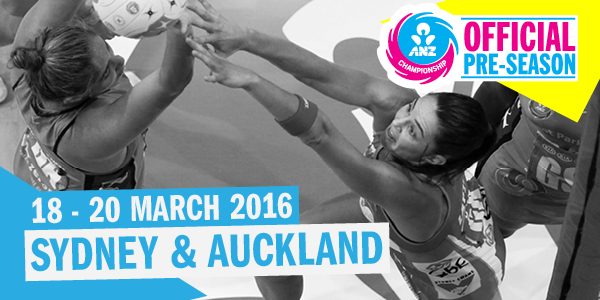 SKYCITY Mystics fans will get an early, and intense, dose of netball action next year when the ANZ Championship pre-season tournament returns. Two three-day events are to be held simultaneously at The Trusts Arena, Auckland, and Sydney Olympic Park, Sydney, from 18-20 March 2016.
Auckland will host Waikato/Bay of Plenty Magic, Ascot Park Hotel Southern Steel, SKYCITY Mystics, Adelaide Thunderbirds and reigning champions Queensland Firebirds, while Sydney welcomes the NSW Swifts, Melbourne Vixens, West Coast Fever, Central Pulse and Mainland Tactix.
Next year will see New Zealand host an ANZ Championship pre-season tournament for the first time since Tauranga welcomed the ten teams four years ago.
"We're pleased that the ANZ Championship Pre-Season is back for 2016, including a return to New Zealand for the first time since 2012, as the weekend plays an important role for the teams' preparation for the season ahead," ANZ Championship General Manager Andy Crook said.
The weekend will see each team contest six games, which will include a combination of 60 and 30-minute matches, under the newly introduced Official Rules of Netball for the first time.
The new rules to be applied from next season will include the elimination of whistles following goals and obvious ball out of court; amendments to injury time; and changes to the out of play rule.
The 2016 ANZ Championship Pre-Season draw for Auckland and Sydney will be released early next year.
For 2016 ANZ Championship Pre-Season event and ticketing information, click here
AUCKLAND, NEW ZEALAND
SKYCITY Mystics (NZL)
Ascot Park Hotel Southern Steel (NZL)
WBOP Magic (NZL)
Adelaide Thunderbirds (AUS)
Queensland Firebirds (AUS)

SYDNEY, AUSTRALIA
NSW Swifts (AUS)
Melbourne Vixens (AUS)
West Coast Fever (AUS)
Central Pulse (NZL)
Mainland Tactix (NZL)