2 Apr 2021
THE 'OLD MARRIED COUPLE' OF THE MYSTICS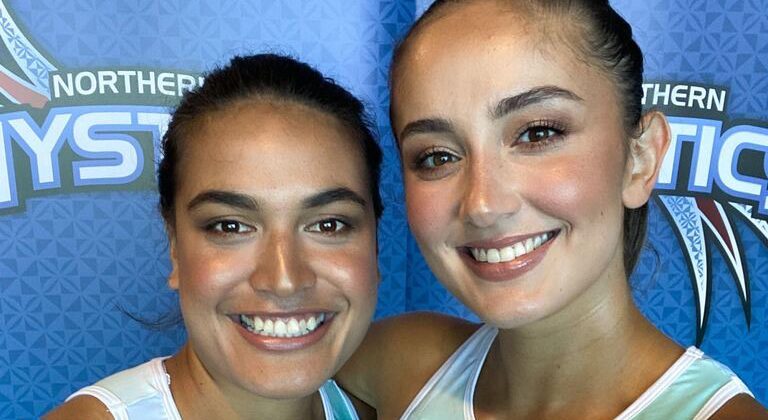 The former Northern Stars duo of Kate Burley and Fa'amu Ioane didn't tell each other they were planning a move across the city to the Mystics this season. Which is hard to believe for a pair that seem to be able to read each other's mind. 
You don't need to spend long in the company of Kate Burley and Fa'amu Ioane to feel like you're chatting to an 'old married couple'.
They finish each other's sentences, belly laugh in unison, and openly admit they frequently have full-on arguments which they politely call "disputes". And they certainly don't hold back when giving each other feedback.
"We're such good mates and she can talk to me as straight as she wants and I can talk to her as straight as I want and we'll never take it to heart. But if people don't know they'll look at us and be like … and I'll say we're all good," says Kate before Fa'amu jumps in.
"It's the respect we have for each other – just being able to tell each other what to do."
It's hard to believe that they both thought about moving from the Stars but never really talked about it to each other.
Kate describes having her "safety blanket" join her at the Mystics was a nice surprise.
"I called her and I was like what are you doing? and she said 'I've just signed with the Mystics.' … OMG – so did I."
Fa'amu, a midcourter, says returning to the Mystics felt like coming home after playing for them in 2016.
"I knew I needed to move and the Mystics play the kind of game that I play."
For Kate what appealed was the Mystics style as well as playing with Silver Fern Sulu Fitzpatrick behind her in the defensive pairing.
"It was the time for me to step out of my comfort zone … a new environment, new coaches and new players."
Despite lifelong friendships with many of their former Stars team-mates the pair can't wait to face their old side.
"I'm actually excited. You know when you move away from a team you always want to beat them, " says Fa'amu.
Kate admits she'll have to drum into herself that her team is now in blue not purple.
"It will be a funny feeling the first actual ANZ (Premiership) game. I'm going to have to really be like – OK don't pass to purple, don't pass to purple."
Fa'amu knows she won't be getting any favours from her new skipper despite being close friends with Sulu.
"I've always had great respect for her on and off the court, although she does growl at me on court! … and I'll just say that I respect you because you're the leader," quips Fa'amu who is renowned for her quick wit.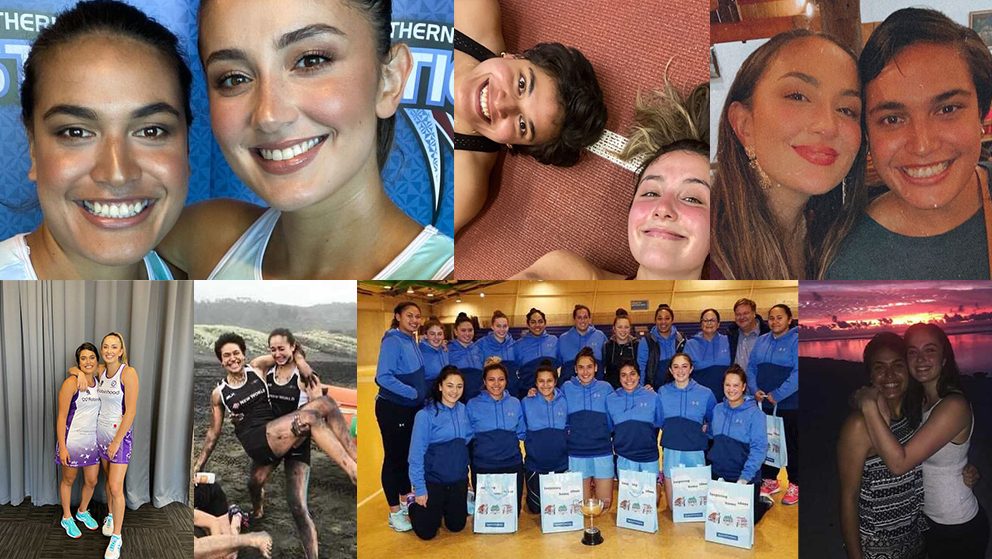 Clockwise from top left: Kate and Fa'amu with the Mystics 2021 / Training together / Hanging out / In Rarotonga with the NZU21 Squad /Playing Club Netball together / NZU21s / Playing for the Stars